ORIGINAL LINK
India In "Very Deep Crisis," Witnessing "Death Of Demand," Warns Former Indian FM
Former Indian Finance Minister Yashwant Sinha said India's economy is in a "very deep crisis," witnessing "death of demand," and the government is "befooling people" with its economic distortions of how growth is around the corner, reported India Today.
"No matter what the powers that be say, the fact is that we are in a very deep crisis," warned Sinha.
India's GDP has been rapidly slowing since peaking in 2016. Official data shows Q3 growth slumped to 4.5%, the lowest since 1Q13.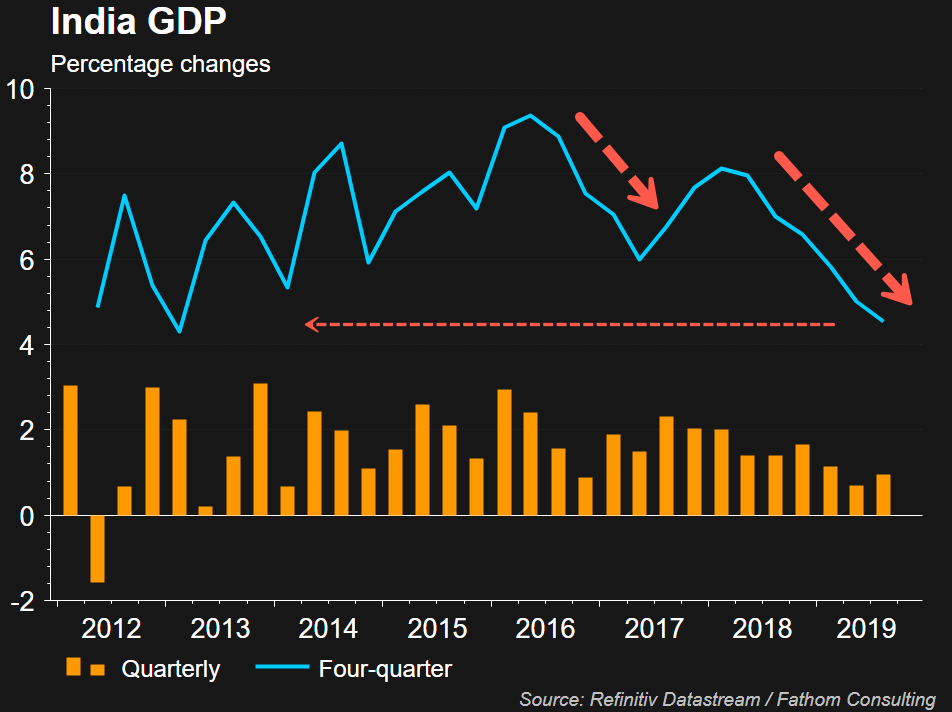 Sinha was speaking to an audience at the Times Litfest 2019 conference, located at Habitat World Center in Delhi, India, on Sunday.
#Yashwant Sinha #TimesLitFestDelhi2019 pic.twitter.com/aKJjPPH1Mc

— Dr. Gaurav Sood, PhD (@imgauravsood) December 1, 2019
He warned that President Narendra Modi's government is attempting to deceive everyone about how growth is coming in the next quarter or the quarter after but cautioned there's only a crisis ahead.
"They (the government) are trying to fool the people by saying the next quarter will be better...This type of crisis takes a long time like three to four or even five years (to subside). It cannot be resolved at the drop of a hat or by wielding a magic stick," he said.
He said the economy is experiencing what is called the "death of demand," and the epicenter of it is the agriculture and rural sector.
"There is no demand in the economy, and that is the starting point of the crisis. They (government of the day) are least bothered about what is happening to our farmers, people living in rural areas, now that is where the death of demand started. The demand first dried up in agriculture and rural sector, then it dried up in the informal or unorganized sector, and ultimately it traveled to the corporate sector," he said.
Sinha said he's been warning the government of the crisis that is coming down the pipe.
"In fact, this was something I had done after already warning them (people in the government) personally through letters, personal meetings... it is only when the party's doors were closed on me that I had to start speaking publicly," he added.
Though there's no recession in India at the moment, the warning signs are showing up. Private consumption has plunged, both public and private investments have fallen, exports have dropped in the past quarter, the economy has been decelerating for several years, and there's zero evidence that the economy has bottomed out.
Tyler Durden
Sun, 12/01/2019 - 20:00
via
IFTTT
InoreaderURL:
SECONDARY LINK