Seeking Truth in a World of Propaganda.

"Those who are able to see beyond the shadows and lies of their culture will never be understood, let alone believed, by the masses." - Plato

Links do not necessarily indicate agreement with stories or perspectives.
Thursday, December 31, 2020
ORIGINAL LINK
China's Clampdown On COVID-19 Origins Exposed As AP Journalists Tailed, Samples Seized
As the World Health Organization and other China puppets struggle to assemble a 'natural origin' theory for COVID-19, the CCP has been going to great lengths to quash non-sanctioned investigations that may instead point to a lab escape from research facilities which made international headlines in 2015 for dangerous 'gain-of-function' research - by which they were manipulating coronaviruses to better infect humans.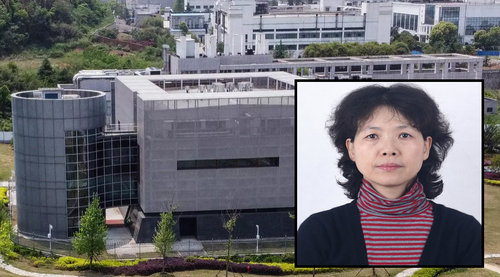 'Batwoman' Shi Zhengli, known for bioengineering bat coronaviruses, was criticized over dangerous 'gain-of-function' experiments
And while mainstream news outlets spent the better part of 2019 flatly rejecting lab-origin evidence as 'debunked conspiracy theories' - which earned ZeroHedge a temporary Twitter ban and a plethora of social media warning labels and 'fact checks' (including one from a former Wuhan Lab worker) the same mainstream outlets are now finding China's suppression of COVID-19 origin theories suspicious.
As part of their investigation, AP interviewed dozens of Chinese and foreign scientists and officials, while also reviewing leaked emails, internal data, as well as documents from China's CDC and cabinet. And what did they find? "A pattern of government secrecy and top-down control that has been evident throughout the pandemic."
...for scientists and journalists, it has become a black hole of no information because of political sensitivity and secrecy.

A bat research team visiting recently managed to take samples but had them confiscated, two people familiar with the matter said. Specialists in coronaviruses have been ordered not to speak to the press. And a team of Associated Press journalists was tailed by plainclothes police in multiple cars who blocked access to roads and sites in late November.

More than a year since the first known person was infected with the coronavirus, an AP investigation shows the Chinese government is strictly controlling all research into its origins, clamping down on some while actively promoting fringe theories that it could have come from outside China. -Associated Press
Let's quickly review the world's easiest game of connect-the-dots:
Peng Zhou, Wuhan Institute of Virology's head of Bat Virus Infection and Immunization, was researching "the molecular mechanism that allows Ebola and SARS-associated coronaviruses to lie dormant for a long time without causing diseases," while a press release from his lab was titled "How bats carry viruses without getting sick."
Zhou's colleague, Shi Zhengli, has been involved in bioengineering bat coronaviruses - co-authoring a controversial 2015 paper which described the creation of a new virus by combining a coronavirus found in Chinese horseshoe bats with another that causes human-like severe acute respiratory syndrome (SARS) in mice.
Add to that China's active suppression of lab-origin theories while their partners at the World Health Organization continue to hunt for some heretofore non-existent crossover species, and it doesn't take Matlock to figure out that the official narrative is severely flawed.
The government is handing out hundreds of thousands of dollars in grants to scientists researching the virus' origins in southern China and affiliated with the military, the AP has found. But it is monitoring their findings and mandating that the publication of any data or research must be approved by a new task force managed by China's cabinet, under direct orders from President Xi Jinping, according to internal documents obtained by the AP. A rare leak from within the government, the dozens of pages of unpublished documents confirm what many have long suspected: The clampdown comes from the top.

As a result, very little has been made public. Authorities are severely limiting information and impeding cooperation with international scientists. -Associated Press
"What did they find?" asks Duke University epidemiologist, Gregory Gray, who oversees a lab in China studying the transmission of infectious diseases from animals to people. "Maybe their data were not conclusive, or maybe they suppressed the data for some political reason. I don't know … I wish I did."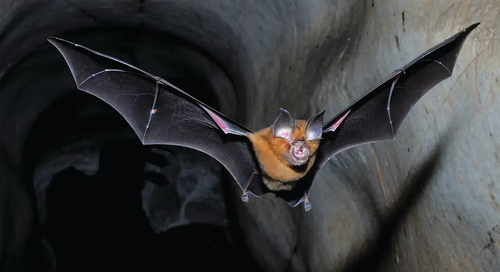 Coronavirus found in horseshoe bat feces from a Yunnan cave, collected by the WIV team known for manipulating bat coronaviruses, was found to be 96.2% identical to SARS-CoV-2
Scientists familiar with China's public health system say the CCP's standard operating procedure of information control and censorship apply to all aspects of COVID-19 research.
"They only select people they can trust, those that they can control," said one public health expert who works regularly with China's CDC. "Military teams and others are working hard on this, but whether it gets published all depends on the outcome."
According to the report, Beijing worries that investigations will also reveal that they were negligent in the spread of the virus.
Some public health experts warn that China's refusal to grant further access to international scientists has jeopardized the global collaboration that pinpointed the source of the SARS outbreak nearly two decades ago. Jonna Mazet, a founding executive director of the UC Davis One Health Institute, said the lack of collaboration between Chinese and U.S. scientists was "a disappointment" and the inability of American scientists to work in China "devastating."

"There's so much speculation around the origins of this virus," Mazet said. "We need to step back...and let scientists get the real answer without the finger-pointing." -Associated Press
Steering the narrative
Now that AP has caught up and corroborated what we've been reporting on ad nauseam - albeit via burning their own hand on the stove - they're also piecing together the enormous disinformation campaign employed by Beijing to try and control the narrative.
After the initial batch of COVID-19 cases were traced to the Hunan Seafood market in Wuhan, authorities began collecting samples for analysis - finding that 33 out of 585 environmental samples tested positive for the virus.
"This corona(virus) is very close to SARS," wrote Canadian microbiologist Gary Kobinger, a WHO adviser, according to internal China CDC data obtained by AP. "If we put aside an accident ... then I would look at the bats in these markets (sold and 'wild')."
Then, "As the virus continued spreading rapidly into February, Chinese scientists published a burst of research papers on COVID-19. Then a paper by two Chinese scientists proposed without concrete evidence that the virus could have leaked from a Wuhan laboratory near the market. It was later taken down, but it raised the need for image control."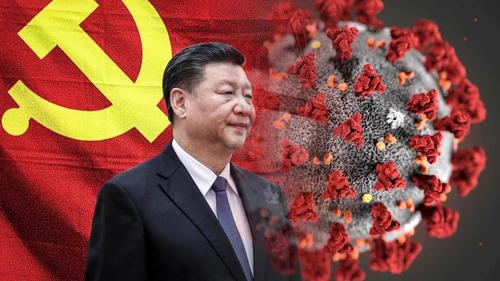 Internal documents show that the state soon began requiring all coronavirus studies in China to be approved by high-level government officials — a policy that critics say paralyzed research efforts.

A China CDC lab notice on Feb. 24 put in new approval processes for publication under "important instructions" from Chinese President Xi Jinping. Other notices ordered CDC staff not to share any data, specimens or other information related to the coronavirus with outside institutions or individuals.

Then on March 2, Xi emphasized "coordination" on coronavirus research, state media reported.

The next day, China's cabinet, the State Council, centralized all COVID-19 publication under a special task force. The notice, obtained by the AP and marked "not to be made public," was far more sweeping in scope than the earlier CDC notices, applying to all universities, companies and medical and research institutions.

The order said communication and publication of research had to be orchestrated like "a game of chess" under instructions from Xi, and propaganda and public opinion teams were to "guide publication." It went on to warn that those who publish without permission, "causing serious adverse social impact, shall be held accountable." -Associated Press
"The regulations are very strict, and they don't make any sense," said one former China DCD deputy director on condition of anonymity. "I think it's political, because people overseas could find things being said there that might contradict what China says, so it's all being controlled."
And after thousands of samples were taken from the Hunan Seafood market, no findings were ever made public. Yet, on May 25, CDC chief Gao Fu finally broke the silence - telling China's Phoenix TV that no animal samples from the market had tested positive, ruling out the market as the likely source of the virus despite its link to the majority of new cases in the region.
China's government-controlled media used the theory to suggest the original outbreak in Wuhan could have started with seafood imported from abroad — a notion international scientists reject. WHO has said it is very unlikely that people can be infected with COVID-19 via packaged food, and that it is "highly speculative" to suggest COVID-19 did not start in China. Bi did not respond to requests for an interview, and China has not provided enough virus samples for a definitive analysis.
We would be remiss if we didn't note that the now-destroyed Wet Market was located roughly 900 feet from a China CDC aboratory where they were experimenting on bat coronavirus.
Read the rest of AP's report here.
Tyler Durden
Thu, 12/31/2020 - 11:40
via
IFTTT
InoreaderURL:
SECONDARY LINK
Wednesday, December 30, 2020
ORIGINAL LINK
Boston Dynamics Robots Learn How To Dance In Creepy New Video
On Tuesday, Boston Dynamics uploaded a video to YouTube of their robots creepily dancing to The Contours' Do You Love Me.
The video shows Atlas, Spot, and Handle – Boston Dynamics' top robots, performing moves choreographed to the music.
The dance starts with Atlas, a bipedal humanoid robot, dancing to the music, and before you know it, another Atlas joins in. Then out of nowhere, robodog Spot hops in and starts dancing with the crew.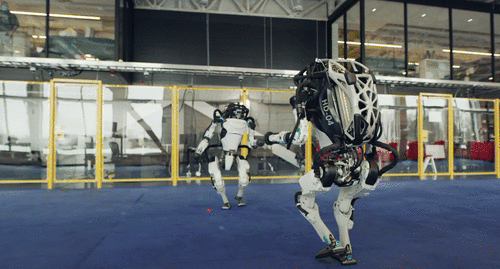 About halfway through the video, Handle, a warehouse robot, slides into the frame - as everyone is getting down with the catchy tune.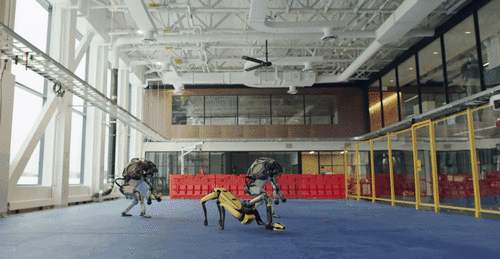 Tesla's Elon Musk chimed in this morning after he watched the video. He tweeted:
"Snake-head dog had my undivided attention until winder-head ostrich came gliding through all nonchalant."
Snake-head dog had my undivided attention until winder-head ostrich came gliding through all nonchalant pic.twitter.com/dtPMdM3TQp

— Elon Musk (@elonmusk) December 30, 2020
Box CEO Aaron Levie tweeted:
"We've collectively learned nothing from sci-fi movies. This is definitely the moment we're supposed to turn back."
We've collectively learned nothing from sci-fi movies. This is definitely the moment we're supposed to turn back. pic.twitter.com/i5QVGEeZ6G

— Aaron Levie (@levie) December 29, 2020
The robots are impressive. They dance with remarkable accuracy, performing moves that only baby boomers would know how to do.
This is not the first time that the robotics company has demonstrated the dance capabilities of its machines. In 2018, it published a video titled "UpTown Spot," where Spot got down with some funk.
Maybe the elaborate dance party was celebrating the recent acquisition of Boston Dynamics by Hyundai.
"This is the beginning of The Terminator," one commentator said on YouTube.
Another said, "Only need to get a human skin then there goes backup dancers job.. welcome to the unemployed."
Watch Full Video Here:
Tyler Durden
Wed, 12/30/2020 - 18:00
via
IFTTT
InoreaderURL:
SECONDARY LINK
ORIGINAL LINK
The Year In Which Comforting American Myths Were Ravaged
Authored by James Bovard via The American Institute for Economic Research,
Thanks in large part to Covid lockdowns, this year has left vast wreckage in its wake, with ten million jobs lost, more than 100,000 businesses and dozens of national chains bankrupted or closed. Up to 40 million people could face eviction in the coming months for failing to pay rent, and Americans report that their mental health is at record low levels.
But the casualty list for 2020 must also include many of the political myths that shape Americans' lives.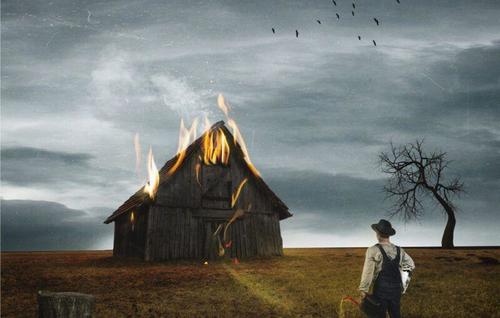 Perhaps the biggest myth to die this year was that Americans' constitutional rights are safeguarded by the Bill of Rights. After the Covid-19 pandemic began, governors in state after state effectively placed scores of millions of citizens under house arrest – dictates that former Attorney General Bill Barr aptly compared to "the greatest intrusion on civil liberties" since the end of slavery. Politicians and government officials merely had to issue decrees, which were endlessly amended, in order to destroy citizens' freedom of movement, freedom of association, and freedom of choice in daily life. Los Angeles earlier this month banned almost all walking and bicycling in the city, ordering four million people to "to remain in their homes" in a futile effort to banish a virus.
The Rule of Law is another myth impaled by 2020's dire developments. Courts have repeatedly struck down sweeping restrictions. Federal judge William Stickman IV invalidated some of Pennsylvania's restrictions in a September ruling: "Broad population-wide lockdowns are such a dramatic inversion of the concept of liberty in a free society as to be nearly presumptively unconstitutional." After the Michigan Supreme Court effectively labeled Governor Gretchen Whitmer a lawless dictator, she responded by issuing "new COVID-19 emergency orders that are nearly identical to her invalidated emergency orders," as the Mackinac Center noted. How many governors and mayors have you seen on the television news being led away in handcuffs after their arrest for violating citizens' rights this year? None.
Another myth that 2020 obliterated was the notion that politicians spending more than a hundred billion dollars every year for science and public health would keep Americans safe.
The Centers for Disease Control utterly botched the initial testing regime, sending out bogus tests to state and local health departments and taking a month and a half to do what the Thai government achieved in one day. The Food and Drug Administration helped turn the coronavirus from a deadly peril into a national catastrophe. Long after foreign nations had been ravaged and many cases had been detected in America, the FDA continued blocking private testing. The FDA continued forcing the nation's most innovative firms to submit to its command-and-control approach, notwithstanding the pandemic.
The benevolence and compassion of public school teachers was another myth that 2020 obliterated. Teacher unions helped barricade school doors the same way that segregationist governors in the 1950s and 1960s refused to obey federal court orders to admit black students. The Chicago Teachers Union proclaimed: "The push to reopen schools is based in sexism, racism, and misogyny."
Black and Hispanic students suffered much larger learning losses due to school shutdowns, leading former Education Secretary John King to warn of a "lost generation of students." Despite a deluge of studies that showed that schools posed little risk of fueling the pandemic, teachers insisted that they were entitled to both their salaries and to stay at home as long as they considered necessary.
This was part of the collapse of the broader myth that the rulers and ruled have common interests. Among other splits, the response to the pandemic divided Americans into those who work for a living, and those who "work" for the government. Government employees in most states and at the federal level have been the Untouchables, continuing to draw full pay even when they were no longer even required to show up for work. One exception to this trend is government tax collectors, who continue commandeering as much as ever from citizens and property owners regardless of the collapse in public services in many places this year.
Another myth that perished in 2020 was that social media and the Internet could be a powerful propellant of free information. Instead, the biggest players pulled the most strings to suppress criticisms or dissent from the latest Covid policies promulgated by officialdom. On March 18, Twitter announced that, in response to Covid-19, it would ban tweets guilty of "denial of expert guidance" or "misleading content purporting to be from experts or authorities."
The World Health Organization initially overestimated the Covid fatality rate by 50-fold but they remain Twitter-approved. Facebook recently launched far more aggressive policies, including directly contacting anyone who liked or commented on a piece that was later ruled erroneous by Facebook guardians and is refusing any ads that discourages people from getting vaccinations. Will they ban WHO's chief scientist Soumya Swaminathan for declaring on Monday that there was "no evidence to be confident [vaccine] shots prevent transmission" of Covid? Google sought to suppress any doubts about lockdowns: "Most users in English-speaking countries, when they google 'Great Barrington Declaration', will not be directed to the declaration itself but to articles that are critical of the declaration," a Spiked-Online analysis noted.
This year's presidential election put a helluva dent in the credo that politicians rule with the "consent of the governed." The pandemic provided the pretext to radically change voting procedures, spurring 65 million mostly unverified mail-in ballots. The New York Times warned in 2012 that "fraud in voting by mail is… vastly more prevalent than the in-person voting fraud that has attracted far more attention." Many states solved that problem by "defining down fraud" and expunging the verification procedures previously used to routinely invalidate 20% or more of mailed-in ballots. The controversies around mail-in ballots, questionable software, ballot harvesting and other practices mean that a record number of Americans will doubt Joe Biden's legitimacy even before he takes his oath of office.
Perhaps the saddest casualty of 2020 is the myth that average Americans cherish their personal freedom. Politicians continually shifted the rationale for lockdowns – from flattening the curve, to ending "community spread," to reducing cases to near zero. Regardless of the proclaimed rationale, most people submitted without a fight, and usually without even a whimper. Politicians and bureaucrats fanned mass fears which quickly ripened into hatred of anyone who did not comply with the latest edict.
States and cities across the country set up snitch lines that were soon deluged with complaints of people outside without a mask, meeting friends, or having more visitors in their homes than could fit in a phone booth. Many, if not most, people quickly acquiesced to the "new normal" where any government hack who recited the phrase "science and data" became entitled to rule their lives with an iron fist.
As the Harvard International Review warned, "The very methods that liberal democracies are currently using to effectively fight the virus are the same tactics that authoritarian leaders use to dominate their people. The tools that have been temporarily deployed in the fight against a once-in-a-lifetime disease may become permanent." That was written on May 23, more than 15 million Covid cases ago – proof of the failure of lockdowns and pervasive restrictions to make Covid-19 vanish. But the miserable batting average of officialdom will vanish into the Memory Hole if politicians launch a campaign to make Covid vaccinations mandatory, complete with boundless vilification of anyone who balks at the injection.
Perhaps it has long been a myth that we live in a self-governing republic rather than a Leviathan Democracy where citizens merely make cameo appearances every few years at the voting booth. It is still possible that the catastrophic and pointless losses imposed by Covid crackdowns will finally awaken enough people to their growing subjugation. But the most dangerous myth is that Americans will finally become safe after they cease making any efforts to leash their rulers.
Tyler Durden
Wed, 12/30/2020 - 23:00
via
IFTTT
InoreaderURL:
SECONDARY LINK
ORIGINAL LINK
COVID "Mutation" Stories Show That The Lockdowns Are Designed To Last Forever
Authored by Brandon Smith via Alt-Market.us,
For many months now I have been warning that the design behind the pandemic lockdowns is a perpetual one; meaning, the lockdowns are MEANT to last forever. We can see this in the very commentary of the establishment elites that are pushing for the mandates; their most frequent argument being that the pandemic restrictions are the "new normal". This assertion is outlined by globalists like Gideon Lichfield of MIT in his article 'We're Not Going Back To Normal'. In it he states:
"Ultimately, however, I predict that we'll restore the ability to socialize safely by developing more sophisticated ways to identify who is a disease risk and who isn't, and discriminating - legally - against those who are.

…one can imagine a world in which, to get on a flight, perhaps you'll have to be signed up to a service that tracks your movements via your phone. The airline wouldn't be able to see where you'd gone, but it would get an alert if you'd been close to known infected people or disease hot spots. There'd be similar requirements at the entrance to large venues, government buildings, or public transport hubs. There would be temperature scanners everywhere, and your workplace might demand you wear a monitor that tracks your temperature or other vital signs. Where nightclubs ask for proof of age, in future they might ask for proof of immunity—an identity card or some kind of digital verification via your phone, showing you've already recovered from or been vaccinated against the latest virus strains."
In my article 'Waves Of Mutilation: Medical Tyranny And The Cashless Society', I dismantled Lichfield's arguments and outlined why the controls the establishment is attempting to put in place have been planned far in advance. The so-called "great reset" and "Fourth Industrial Revolution" has been in development since at least 2014 when the terms were first being injected into the mainstream economic media. The ideas of a cashless society, the "sharing economy", biometric mass surveillance, social credit scores, etc, have all been part of the globalist agenda for decades. The coronavirus is merely a useful crisis for them to exploit as a rationale for the draconian measures they have always wanted.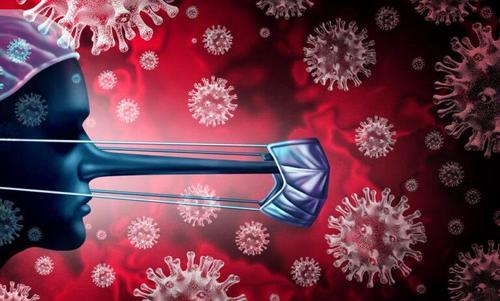 The plan was so predictable that I even pointed out at the beginning of the coronavirus outbreak that lockdowns would not end even if a working vaccination was developed because all they have to do is declare that a "new mutation" of the virus has been found which is resistant to existing treatments. Or, they could engineer a whole new virus and release it into the population in order to keep the Reset machine rolling forward.
Not surprisingly, just as news hit the wires that the barely tested and highly suspect Pfizer and Moderna vaccines were being released to the public, reports have begun to trickle in of "more infectious" Covid mutations found in places like the UK, India and South Africa.
I'm not sure how much more transparent the elites can get.
Take the Pfizer vaccine now and you might receive an immunity passport for a few months, and then it will become void with every new mutation of the virus. So, you must then submit to ENDLESS vaccinations, many of then untested and potentially hazardous. As the former VP of Pfizer and other medical professionals have warned, these vaccines are like Russian Roulette and could cause an autoimmune response that leads to sterility or other harmful reactions.
The vaccines themselves are a conveniently short lived solution even if they do work. They require multiple doses over the course of a month, and renewed vaccinations are to take place possibly every few months. Basically, it never ends. With the mutations and limited antibodies from the vaccines, the elites could keep the lockdowns and mandates in place for many years to come.
The World Health Organization is making it clear that vaccination will not necessarily be considered a solution to viral spread. Meaning, even if you are vaccinated you will still be considered a potential carrier and transmitter of Covid, therefore the lockdowns and mask mandates will not stop. This begs the question – What's the point of the vaccine?
The WHO chief scientist cites the fact that there is not enough evidence to prove that the vaccines prevent transmission. By that logic, we could also argue that there is no evidence that the vaccines are 95% effective, or that they are safe in the slightest.
In the meantime, the WHO and our friendly neighborhood fascist Dr. Anthony Fauci are consistently spreading the narrative that the "worst outbreak" is yet to come. Gotta keep that fear train chugging forward on the track to the "Great Reset", right?
For the people that actually believe that the covid crisis will end after mass vaccinations, I'm sorry to say, but you have been duped. Every single element of the establishment response and every public statement they make indicates that they plan to violate your civil liberties for a long time to come. Those promises of relief right around the corner? All lies. The claim that if you go along to get along everything will go back to normal? It's a con. It is hollow rhetoric designed to make you shut up and submit to medical tyranny for just long enough that it becomes irreversible.
I suspect they are hoping they can condition the public over the next few years to simply adapt to the controls until we forget what life was like before the pandemic and the reset. It seems, however, that the globalist reset plan is not going very well.
The vaccines and the mutation news feel rushed, to say the least. Initially, the establishment said that it would take at least 18 months just to develop a vaccine for trials and testing, and that the lockdowns would continue well beyond that time frame until a majority of the population was shown to have immunity. Instead, they tossed out multiple vaccines within 6 months and the mutation narrative is already in the news.
I believe this is because resistance to the pandemic lockdowns is growing and the number of people refusing to take the vaccines appears to be high. As they say, the revolution will not be televised, but it is still impossible to hide completely.
In Europe, a huge percentage of the population (around 50% or more depending on the country) are hesitant to take the vaccine. In the US, polls show that at least 30% of the population will refuse outright, while 60% of people are hesitant about effectiveness.
Even large numbers of health care workers are refusing the vaccine, and these are the people with the most pressure to submit or face consequences.
Hilariously, the media is arguing that though there have been "some allergic reactions" to the shot, there is "no evidence of serious long term side effects". Perhaps that is because there are NO STUDIES of the long term effects and there were minimal trials before the vaccines were released? I mean, is this not basic logic? Do they really think we are that dumb?
So far it seems hundreds of millions of people are not that dumb. Surprisingly, even sheriffs and police across the country are openly refusing to enforce mandates and carry out color-of-law punishments against citizens that do not submit. This is really a huge obstacle for the globalists and their reset.
The virus has produced a 0.26% IFR (Infection Fatality Ratio) among anyone not in a nursing home with preexisting conditions. Over 40% of Covid deaths are attributed to elderly people that were already suffering from numerous ailments. Only around 10% of people that end up hospitalized for covid suffer from long term health concerns (more than three months). And, only around 15% of ICU beds are in use across the US, meaning that the claims of over-capacity and full hospitals were nothing more than fear mongering all along.
Consider the fact that hundreds of thousands of people already die each year from infectious diseases like the flu and pneumonia and Covid starts to seem far less threatening. It is certainly not an excuse for medical lockdowns and Orwellian contact tracing measures.
On top of that, numerous studies are revealing that the lockdowns and the masks are completely ineffective in stopping the spread of the virus. The states and countries with some of the most strictly enforced mandates also tend to be the places with the highest infection spikes.
Because of this, it makes sense that many people are refusing to comply with the mandates. The media claims we are conspiracy theorists that believe the virus "doesn't exist"; this is not the case. In fact, I have long suspected that the narrative that the virus "doesn't exist" was a psyop or strawman that would be used against the liberty movement later to discredit our resistance to medical lockdowns.
Most of us are well aware the virus exists. Some of us have already dealt with it and recovered from it. What we are saying is that the CDC, the WHO and the medical community's OWN STATISTICS show that Covid is not a threat to more than 99% of the population. If we are to accept their stats as even remotely accurate, then Covid becomes a non-issue for most people.
Again, I will ask the question that the mainstream refuses to ask:
Why is 99% of the population being told they must sacrifice their jobs, their businesses and their liberties in the name of making less than 1% of the population feel safer? Why not ask the 0.26% of the people under threat from the virus to volunteer to stay home so that the rest of us can get on with normal life? Why are we doing the opposite of what makes the most sense?
The answer is that the pandemic response is about dominance, not public health. People are starting to recognize this, and they are about to revolt.
So, the next logical step for the establishment if they really want to institute their reset agenda is to introduce a new threat. Meaning, they need a "mutation" of the virus or a completely new virus in order to create the kind of fear that is required to manipulate the public into going along with further control.
Will a new and deadlier virus be found? Maybe. In most cases viruses tend to evolve into less deadly strains of the original. They also tend to balance out their rate of spread versus their rate of mortality. In other words, like any other creature, viruses evolve to survive, and a virus cannot survive if it kills off a majority of its potential hosts. So, they mutate to become more infectious, but invariably less deadly.
If a "mutation" does show up on the scene that is more deadly than the current form of Covid-19, then I would be highly suspicious of its origins. What is most likely is that that the elites are in a panic and they are using the mutation narrative as a propaganda tool to illicit terror and conformity in the public. There may be no mutation at all, or the mutations will have no significant bearing on the death rate.
Ironically, by rushing out the vaccines as well as the mutation stories, the elites have sabotaged themselves. They wanted to blitzkrieg the public with the lockdowns and they met heavier resistance than they expected. So, they put the vaccination program on a bullet train and now the public is wary of being injected with a vaccine model that is barely tested. Now, they are promoting the mutation bogeyman and this only makes people question why they should take any vaccine at all? If the virus is going to continually mutate then why take a questionable vaccine that could be useless in a matter of a months?
All the mutation narrative does is further expose what the true agenda is – What the elites want is never-ending lockdowns. There is no program to save lives or flatten the curve. The entire health argument is utter nonsense. Nothing that has been done so far supports the notion that public health is the priority. Instead, what we are seeing is a mad dash towards totalitarianism using Covid as the excuse, and the effort is failing.
* * *
If you would like to support the work that Alt-Market does while also receiving content on advanced tactics for defeating the globalist agenda, subscribe to our exclusive newsletter The Wild Bunch Dispatch. Learn more about it HERE.
Tyler Durden
Wed, 12/30/2020 - 23:40
via
IFTTT
InoreaderURL:
SECONDARY LINK
(Natural News) In signing the $900 billion pork-laden "stimulus" bill that was presented to him by the political establishment, President Donald Trump invoked a little-known law called the Impoundment Control Act of 1974, the implications of which have many people scratching their heads in confu
ORIGINAL LINK
ORIGINAL LINK
All Major Western Media Outlets Take "Private Dinners", "Sponsored Trips" From Chinese Communist Propaganda Front
By Natalie Winters of The National Pulse
A host of corporate media outlets including CNN, The New York Times, The Washington Post, and MSNBC have participated in private dinners and sponsored trips with the China-United States Exchange Foundation, a Chinese Communist Party-funded group seeking to garner "favorable coverage" and "disseminate positive messages" regarding China, The National Pulse can reveal.
Other outlets involved in the propaganda operation include Forbes, the Financial Times, Newsweek, Bloomberg, Reuters, ABC News, the Economist, the Wall Street Journal, AFP, TIME magazine, LA Times, The Hill, BBC, and The Atlantic.
The relationship is revealed in the Department of Justice's Foreign Agent Registration Act (FARA) filings, which reveal a relationship spanning over a decade between establishment media outlets and the China–United States Exchange Foundation (CUSEF).
'Neutralize Opposition.'
CUSEF is a Chinese Communist Party-funded initiative founded by Tung Chee Hwa. The group also targets American universities with offers to fund policy research, high-level dialogues, and exchange programs.
Tung also serves as Vice-Chairman of the Chinese People's Political Consultative Conference (CPPCC), identified by the U.S.-China Security and Economic Review Commission as a key component of the Chinese Communist Party's United Work Front.
The effort, according to the U.S. government report, aims to "to co-opt and neutralize sources of potential opposition to the policies and authority of its ruling Chinese Communist Party."
"The United Front strategy uses a range of methods to influence overseas Chinese communities, foreign governments, and other actors to take actions or adopt positions supportive of Beijing's preferred policies," it continues.
This strategy appears to have been deployed in conjunction with outlets such as CNN, New York Times, and the Washington Post.
Targeting Reporters, Journalism Students.
A 2011 FARA filing highlighted by Axios detailed CUSEF's agreement with American lobbying firm BLJ. It outlines how CUSEF set out to "effectively disseminate positive messages to the media, key influencers and opinion leaders, and the general public" regarding China.
To do so, CUSEF targeted working journalists and journalist students:
In order to develop favorable coverage in key national media, BLJ will continue to organize and staff "familiarization trips" to China. This includes recruiting top journalists to travel to China, selected for effectiveness and opportunities for favorable coverage.
In 2009 alone, CUSEF generated 28 media placements as a result of its four journalist visits and BLJ secured "the publication of 26 opinion articles and quotes within 103 separate articles" on behalf of CUSEF.
Outlets included Newsweek, the National Journal, the Nation, Congressional Quarterly, U.S. News, World Report, The Chicago Tribune, and the Washington Note.

"BLJ directly contributed to or influenced" an average of three articles "per week."
Guilty.
While universities, including the University of Texas at Austin, have divested from CUSEF in light of its Chinese Communist Party ties, the same cannot be said for dozens of Western media outlets.
FARA filings from CUSEF's American lobbying firm BLJ reveal American media organization participating in "private dinners at BLJ's CEO's home on behalf of CUSEF," trips to China, and meetings with CUSEF officials.
A filing dated January 1st, 2012, show outlets including The New York Times, The Wall Street Journal, Reuters, CNN, and more participating in "private dinners" at the home of CUSEF's American lobbying firm's CEO.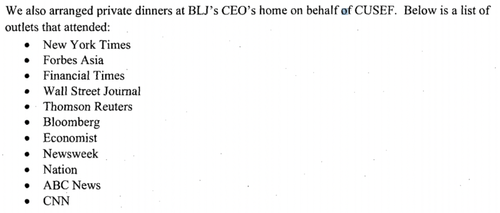 The same filing reveals that outlets including National Public Radio (NPR), The Atlantic, MSNBC, and Reuters had journalists visit China to meet with CUSEF officials.
Since then, filings continue to reveal a host of Western outlets attending private dinners and visiting China. Most outlets are included more than once.
In 2013, The Washington Post joined a China-bound journalism delegation, in 2014 Harvard Business Review also joined a delegation, and in 2015, the Los Angeles Times and The Huffington Post also visited the communist country.
A 2014 filing reveals that lobbying firm BLJ "arranged private dinners in New York and Washington DC on behalf of CUSEF" with over 20 attendees including The New York Times, The Washington Post, Reuters, Associated Press, BBC, and more: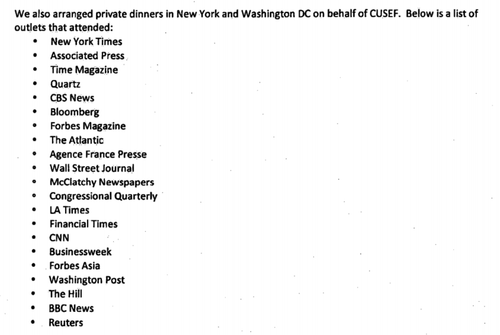 Images in CUSEF brochures shed light on the entities visited by journalists.
Between 2011 and 2013 images reveal journalist touring Huawei – a telecommunications firm labeled a "national security threat" and military collaborator by the U.S. government – along with Chinese military bases: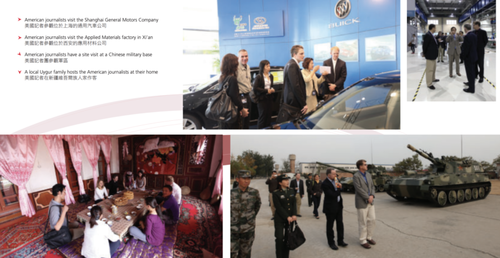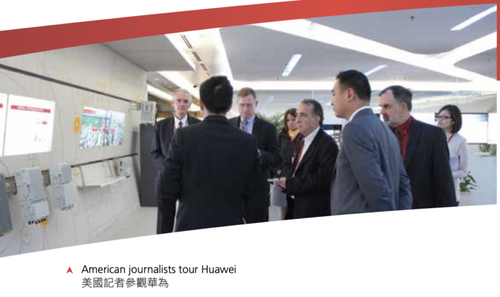 Results.
Following the ongoing pressure campaigns, CUSEF has escaped significant criticism in the corporate press. There have only been a few mentions in broader pieces concerning Chinese Communist Party influence operations on American college campuses.
Such behavior from news outlets implies a conflict of interest, or worse: that the ostensible news outlets have been bought off.
Even when CUSEF is criticized, such as in The Washington Post article "China's reach into U.S. campuses," CUSEF's Executive Director Alan Wong was offered a rebuttal: something that even Americans on the political right fail to obtain from outlets such as the Post.
Vox, another outlet participating in CUSEF's journalism trips, prefaced an article on President Trump and North Korea by noting author Yochi Dreazen "wrote it while on a trip to China sponsored by the China-United States Exchange Foundation (CUSEF)":
The author of this article wrote it while on a trip to China sponsored by the China-United States Exchange Foundation (CUSEF), a privately funded nonprofit organization based in Hong Kong that is dedicated to "facilitating open and constructive exchange among policy-makers, business leaders, academics, think-tanks, cultural figures, and educators from the United States and China." Vox.com's reporting, as always, is independent.
The article, which featured quotes from Chinese Communist Party officials, appeared to regurgitate the party line, noting "Beijing won big."
As Foreign Policy magazine noted, to its credit, CUSEF is scarcely a privately funded non profit but rather is "a registered foreign agent bankrolled by a high-ranking Chinese government official with close ties to a sprawling Chinese Communist Party apparatus that handles influence operations abroad."
Tyler Durden
Wed, 12/30/2020 - 10:15
via
IFTTT
InoreaderURL:
SECONDARY LINK
ORIGINAL LINK
This Fed Policy Is "Scandalous"
Peter Schiff has been saying that all of the "help" the US government and the Federal Reserve have offered up during the coronavirus pandemic isn't helping. In fact, it's made the situation worse. In a podcast last month, Peter said that all of the money printing and stimulus allowed people to keep spending, but they aren't producing anything.
The problem is government doesn't seem to understand the difference between money that is actually earned by being productive and money you get just because the Federal Reserve or some other central bank conjures out of thin air. When you're productive, you're helping to grow the economy. When the Fed prints money, all they're doing is distorting the economy and increasing the cost of living."
Over the last year, the US government has added trillions to the national debt and the Fed has monetized much of that, growing the money supply at a record pace. All of this money printing is supposed to keep the economy afloat during the crisis, but as economist Robert Murphy shows, it's not even doing that. We may have had a rebound in GDP and unemployment has dropped since the early months of the pandemic, but as Murphy points out, the US labor market is still "in terrible shape," and all of the money printing in the world can't fix that. Murphy calls Federal Reserve and US government policy over the last year "scandalous."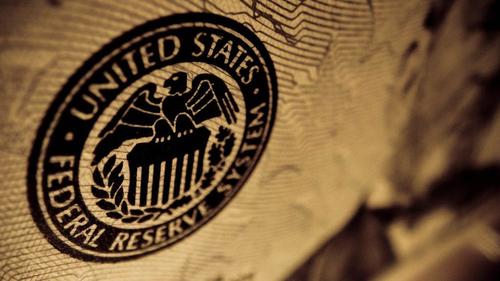 The following by Robert Murphy was originally published by the Mises Wire. The views expressed don't necessarily reflect those of ShiffGold or Peter Schiff.
This year has been a slow-motion train wreck on many levels. Americans have understandably been so preoccupied with the election and the unprecedented violations of individual liberties in the name of fighting covid-19, that there hasn't been much attention left for what the Federal Reserve and US Treasury have been up to. Furthermore, the battles being waged over "public health" policy have obscured just how awful the US economy still is. The present article provides charts from the Federal Reserve itself (St. Louis branch) to document our alarming situation.
The US Federal Debt
We all vaguely know that tax revenues must be way down and federal spending has skyrocketed, but most Americans probably have no idea how much new debt has been added in just the last year:

Specifically, at the end of the third quarter of 2020, the federal debt "held by the public" (meaning that this figure excludes intragovernmental holdings such as the so-called Social Security trust fund) stood at $21 trillion and change. That same figure for 3q 2019 was $16.8 trillion, meaning that the Treasury's outstanding debt increased by some $4.2 trillion in just twelve months' time. To reiterate, this is how much more Uncle Sam spent above revenues in just one year.
The Fed's Incredible Buying Spree
Not coincidentally, just as the US Treasury was issuing boatloads of new debt, the Federal Reserve for its part was creating new dollars with which to soak up inordinate amounts of Treasury (and mortgage-backed) debt. Here's the chart showing total financial assets held by the Federal Reserve System:

In the chart above, as of mid-December 2020, the Fed held some $7.3 trillion in assets. Just a year earlier it had only held $4.1 trillion—a one-year growth of $3.2 trillion. Notice that the ballooning Fed balance sheet this year far surpassed what happened even in the wake of the financial crisis in 2008.
To understand why the Fed's actions are so significant, keep in mind that when the Fed buys assets, it creates high-powered "base money" to do so. (Jay Powell didn't have $3.2 trillion in his piggy bank when the Fed made the above-noted purchases this year.) Besides the potential for price inflation, Austrians recognize central bank monetary inflation as a crucial ingredient in modern business cycles. For more on these ideas, see my forthcoming book (which is being serially released by chapter) on Understanding Money Mechanics.
Just for fun, I took the above chart and overlaid the S&P 500 index:

In the chart above, the fit between the Fed's assets and the height of the US stock market isn't perfect—it truly had been hand-in-glove during the initial rounds of QE, but for some reason, they changed the data availability on the site and now the S&P index doesn't go back that far—but it still suggests that the record-high stock prices we saw this year are due to Fed money printing rather than the fantastic prospects for US economic growth.
US Employment
Amid the breathtaking issuance of federal debt and base money, the US labor market is in terrible shape. Here's the official civilian unemployment rate that they report in the news:

The massive spike in the spring underscores just how disruptive the initial lockdown was. However, note that even now, with the headline unemployment rate (for November) at "only" 6.7 percent, we are still worse off than during the depths of the recession in the early 2000s.
Yet as most readers of mises.org probably know, the official unemployment rate has been very misleading since the economic fallout from the 2008 financial crisis. Specifically, the Bureau of Labor Statistics (BLS) only counts you as unemployed if you are actively seeking work. Incidentally, this isn't an entirely crazy procedure; my parents live in a retirement community and play golf several times a week. They aren't working, but that's not who we mean when we talk of "the unemployed."
However, the unemployment figure can be very misleading when there are millions of Americans who desperately want to work but who have given up hope of finding a job. Since they are no longer actively seeking work, poof! They're no longer counted among the unemployed.
One way to sidestep this problem is to ask: What percentage of the civilian labor force does have a job? Yet even here cultural trends can influence the significance of such a figure. For example, more women entered the official workforce in the 1970s and beyond, which tended to increase the labor-force participation rate. In addition, people are living longer while the birth rate has declined, and thus the "aging" of the population also might affect these statistics.
In an attempt to isolate what we really want to know, in the following chart I am just focusing on men aged 25–54. Out of this demographic, what percentage held a job over time? The chart below gives us the alarming result:

(Note that the y-axis starts at 75, not 0.) As this last chart reveals, among men aged 25–54, the employment rate is not much above the trough it hit following the financial crisis. More generally, we see that with each recession (the gray bars) going back to the 1980s, prime-age male employment never returned to its previous level.
Conclusion
The year 2020 has seen the Keynesian policy solutions—have the authorities print and borrow money—applied in unprecedented fashion. To be sure, no matter how bleak the economy may be, the Keynesians can always say, "It would have been worse without us." Yet those steeped in Austrian economics understand the importance of sound money and (if we are going to have a government) fiscal prudence. On top of the outrageous lockdowns of business and even residential gatherings, what the Treasury and Fed have done this year is scandalous.
Tyler Durden
Wed, 12/30/2020 - 11:45
via
IFTTT
InoreaderURL:
SECONDARY LINK
ORIGINAL LINK
Multiple GOP Senators Announce Plans To Challenge Electoral College Results
Update (1250ET): Two more lawmakers have joined Hawley with planned objections to the count during the January 6 vote. Sen. Tommy Tuberville (R-TN) and Rep. Jeff Duncan (R-SC) are also planning to object, according to Bloomberg, along with Rep. Marjorie Greene (R-GA).
That said, it may be all for nothing if rumors are true Pelosi and McConnell are working together to change the rules and block objections.
Word on the Hill is that Mitch McConnell and Nancy Pelosi could be working together on a rules change "deal" to block our Electoral College Certification objection.

The American people deserve to hear about the voter fraud that took place on Nov 3 ... NO DEAL, NO COVER-UP!

— Marjorie Taylor Greene 🇺🇸 (@mtgreenee) December 30, 2020
* * *
Authored by Jack Phillips via The Epoch Times,
Sen. Josh Hawley (R-Mo.) said he will object during the counting of the Electoral College vote process on Jan. 6, becoming the first senator to confirm they are joining an effort launched by more than a dozen House Republicans.
"I cannot vote to certify the electoral college results on Jan. 6 without raising the fact that some states, particularly Pennsylvania, failed to follow their own state election laws," Hawley wrote in a statement on Monday.

"And I cannot vote to certify without pointing out the unprecedented effort of mega-corporations, including Facebook and Twitter, to interfere in this election, in support of Joe Biden," he added.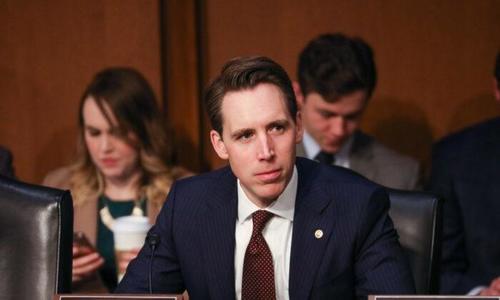 Senate Judiciary Committee member Sen. Josh Hawley (R-Mo.) attends the confirmation hearing of Attorney General nominee William Barr at the Capitol in Washington on Jan. 15, 2019. (Charlotte Cuthbertson/The Epoch Times)
Hawley said that Congress should investigate voter fraud allegations and make sure that future elections are secure. According to the Missouri Republican, both chambers have failed to act in an appropriate manner.
"For these reasons," Hawley continued, "I will follow the same practice Democrat members of Congress have in years past and object during the certification process on Jan. 6 to raise these critical issues."
Hawley noted that Democrats objected during the 2004 and 2016 elections "in order to raise concerns" about election integrity. "They were praised by Democratic leadership and the media when they" objected, Hawley added, saying that they "were entitled to do so" and Republicans concerned about election integrity in the Nov. 3 election "are entitled to do the same."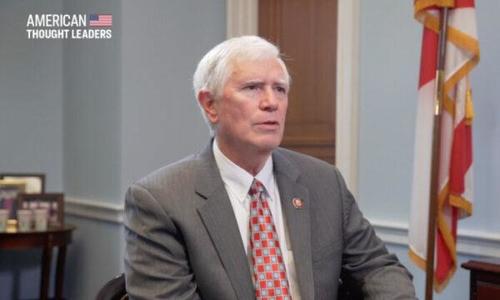 Rep. Mo Brooks (R-Ala.) in an interview with "American Thought Leaders." (The Epoch Times)
For the past several weeks, Rep. Mo Brooks (R-Ala.) and other House GOP lawmakers have pledged to object to the counting of the Electoral College votes during the Joint Session of Congress. Their effort requires a senator and a House member that would trigger a series of debates before a vote on whether to certify a state's Electoral College votes is held.
Some members of the GOP leadership, including Majority Whip John Thune (R-S.D.), have said their efforts are doomed to fail. And over the past weekend, Rep. Adam Kinzinger (R-Ill.), in comments widely publicized by news outlets, referred to Brooks's effort as "a scam."
And, according to anonymously sourced reports, Senate Majority Mitch McConnell (R-Ky.) told GOP senators that they should not take part in the House GOP-led effort on Jan. 6. Another Republican, Sen. John Cornyn (R-Texas), said the attempt to challenge the votes is an improbable one.
"It's basically going through the motions," Cornyn said, reported The Hill.

"It's a futile exercise."
But Brooks, for his part, indicated that "dozens" of House members back the effort. "We're going to sponsor and co-sponsor objections to the Electoral College vote returns," Brooks told Fox News on Dec. 28.
In a previous interview with The Epoch Times' American Thought Leaders program, Brooks said he believes the Electoral College vote can be rejected, and the election can ultimately be decided in the House of Representatives.
Former California Sen. Barbara Boxer "tried to strike Ohio for George Bush back in 2005, so this is not unusual," Brooks said in an interview with Fox Business on Dec. 15. "The law is very clear, the House of Representatives in combination with the United States Senate has the lawful authority to accept or reject Electoral College vote submissions from states that have such flawed election systems that they're not worthy of our trust."
The new Congress is slated to be sworn in on Jan. 3.
Tyler Durden
Wed, 12/30/2020 - 12:15
via
IFTTT
InoreaderURL:
SECONDARY LINK
(Patrick Delaney, LifeSiteNewsLifeSiteNews) — Last month, the District of Columbia passed B23-017, a bill that allows children to be vaccinated without the knowledge or consent of their parents.
ORIGINAL LINK
ORIGINAL LINK

The resistance to the apparent election of Joe Biden as President of the United States is continuing to play out. Current President Donald Trump is continuing to fight against the presumed results of the November national election with his final card appearing to be a vote in Congress when it reconvenes on January 6th to throw out the results due to fraud in certain key states. Many have noted how the registration and electoral processes in the United States, varying as they do from state to state, were and are vulnerable to fraud. That, plus some eyewitness testimony and technical analysis, suggests that possibly systematic fraud did take place but it is far from clear whether it was decisive. This is particularly true of the vote by mail option, which was promoted by leading Democrats and which empowered literally millions of new voters with only limited attempts made to validate whether citizens or even real people were voting.
Vote by mail is now one of several options that are appearing to be weaponized by the cash-rich Democrats in the state of Georgia, where two Senate races will be up for grabs in runoff elections on January 5th. If the Democrats obtain both, they will control the Senate through the Vice President's role in presiding over the upper chamber where she has the tie breaking vote. That will mean that we the voters can expect some dramatic changes as the Democrats respond to their various constituencies with their well enunciated grievances.
In what may be its last weeks in office, the Trump Administration is also exploiting its executive power to pardon to reverse perceived injustices and to protect remaining allies, to include some family members. Trump is already on track to pardon more individuals than any preceding president with 90 pardons issued as of Christmas Eve and many more expected. One of his initial pardons was a notable example of a miscarriage of justice in the case of presidential national security advisor designate Michael Flynn, who was wrongly accused of collaborating with Russia. If anything, he was actually cooperating with a request that came from Israel, which Congress and the media apparently do not regard as wrongdoing.
Trump's pardon of his daughter Ivanka's father-in-law Charles Kushner is particularly controversial, as Kushner was a multimillionaire real estate developer and a leading Democratic Party donor when he was convicted in 2005 to two years in federal prison after he pleaded guilty to 18 counts, which included both tax evasion and making illegal campaign contributions. The tale of Charles Kushner is particularly unsavory because he reportedly sought revenge after he learned that his brother-in-law and former business partner was aiding federal authorities. Charles hired a prostitute to seduce his brother-in-law in a New Jersey motel room, making a recording of the encounter using a hidden camera that he then showed to his brother-in-law's wife, who was, of course, Kushner's own sister.
Kushner's prosecution was directed by then-U.S. Attorney Chris Christie, who afterwards became a prominent Trump supporter and head of his transition team before being fired in 2016, apparently per orders originating with Jared Kushner. In a 2019 interview Christie explained "Mr. Kushner pled guilty. He admitted the crimes. And so what am I supposed to do as a prosecutor? I mean, if a guy hires a prostitute to seduce his brother-in-law, and videotapes it, and then sends the videotape to his sister to attempt to intimidate her from testifying before a grand jury, do I really need any more justification than that? I mean, it's one of the most loathsome, disgusting crimes that I prosecuted. And I was U.S. attorney in New Jersey, so we had some loathsome and disgusting crime going on there."
Charles Kushner is also a close friend and supporter of Israeli Prime Minister Benjamin Netanyahu, which might also be relevant to his pardon and I will leave any assessment of the ethics of the Kushner clan up to the reader. Nevertheless, the consequence of Jared's ability to influence the president could be politically damaging as he reportedly has been responsible for many of the pardons that have already taken place and is now the conduit for new petitioners.
Another highly criticized Trump pardon has involved the four Blackwater mercenaries who massacred 19 Iraqis including 2 children firing from a helicopter into a crowded Nisour Square Baghdad in 2007. The president is reportedly very friendly with Blackwater founder and former president Erik Prince, whose sister Betsy DeVos is Education Secretary and also close to the president. But in any event Trump's pardon record is different only in terms of magnitude from those of some of his predecessors as there have been some highly questionable pardons in the past, to include Marc Rich under Bill Clinton and Elliot Abrams under George W. Bush.
There remains a long list of possible candidates for Trump to sign off on, to include a possible self-pardon, and more pardons for family members Ivanka, Jared and two of his sons as well as his lawyer Rudy Giuliani. Other current and impending pardon recipients have been individuals who were involved in the Trump campaigns, to include Paul Manafort and Roger Stone. Pardons are a particularly attractive pre-emptive option currently as a number of leading Democrats have been calling for "truth commissions" and other forms of punishment of Trump supporters and officials.
The process of issuing presidential pardons will undoubtedly continue up until Inauguration Day on January 20th, but sources are uncertain whether Trump will be courageous enough to pardon the two individuals whose freedom would most definitely be sending a powerful message for integrity in government. They are Julian Assange and Edward Snowden. Both men's names have been coming up frequently in the alternative media, together with the development of active lobbying groups that are seeking their freedom.
Assange, a journalist and founder of WikiLeaks, is currently languishing in a British prison, where he has been for twenty-one months, awaiting a decision on whether he will be extradited to the United States or not which will reportedly be decided on January 4th. The Department of Justice has claimed that he violated the Espionage Act of 1917 by receiving classified information from Chelsea Manning. Reportedly, Assange's mental and physical health have deteriorated sharply as he is being held in solitary confinement with only short periods of exercise and without access to reading or writing material to occupy his time. The British judge appears to be completely unsympathetic to Assange and it is generally believed that she will order his extradition if he does not fortuitously die in prison before that could take place.
Snowden, meanwhile, is living in Russia and has been granted citizenship, a country to which he fled by way of Hong Kong in 2013, after revealing to journalists details of a vast and illegal surveillance program run by the National Security Agency (NSA) against American citizens, something he discovered while he was employed as a NSA contractor. He had attempted to raise his concerns with supervisors but was rebuffed and he eventually became a self-declared whistleblower and fled the country. He has repeatedly offered to return to the United States to face trial, but has also insisted that a fair hearing would be impossible under the current circumstances.
It should be observed that Snowden is absolutely correct to assume that he would be convicted both on grounds of espionage and of compromise of classified information. The federal court in Alexandria, where national security cases are usually tried, always finds for the government even if evidence is questionable or even non-existent. A recent conviction involved ex-CIA officer Jeffrey Sterling, who was sent to prison for 42 months even though it could not be demonstrated that he had actually done anything. The court concluded that "it had to be him."
To be sure, revealing classified information is a serious matter, even though many former government employees would agree that much material that is classified does not actually damage national security if it is revealed. Frequently, classification is used to keep the government from being embarrassed or to shut down any revelation that it has acted illegally. Both Assange and Snowden would argue that they had acted appropriately in revealing war crimes, illegal acts and even violations of the Constitution as consequences of the so-called "global war on terror." Assange, who regards himself as a journalist, published details of the Blackwater massacre of civilians committed by the crew of a helicopter gunship in Iraq and also was involved in the exposure of the Hillary Clinton emails. Snowden, as noted above, claims to be a whistle-blower and has sought protection under relevant laws in the United States, so far to no avail.
The illegal and otherwise unconscionable acts by various elements in the U.S. government that were exposed by Assange and Snowden include war crimes, so they are not trivial. Trump, having already done a "favor" to Blackwater, might be disinclined to pardon someone who exposed its mercenaries' crimes. But there is nevertheless, as is often the case, an interesting aspect to the story that is worth paying attention to. Trump, as is widely conceded even by some Democrats, was targeted by the Deep State even before he was nominated, an effort to destroy his presidency that persisted for years through the completely contrived mechanism of Russiagate. Given that, it would behoove Trump to strike back in his waning days in office. Both Assange and Snowden exposed illegal activities and cover-ups by the Deep State, almost certainly to include the active participation of some of the very people who have sought to bring the president down. And they both may have more to say. If Donald Trump seriously seeks to strike a blow against his enemies, it would be both fitting and just to pardon both men on that basis alone. Let us hope that President Trump has both the wisdom and fortitude to take that step in his last days in office.
Reprinted with permission from The Unz Review.
The post A Pardoning Time of Year appeared first on LewRockwell.
via
IFTTT
InoreaderURL:
SECONDARY LINK