ORIGINAL LINK
2 Minnesota Lawmakers Say State's COVID-19 Deaths Inaccurate, Demand Nationwide Audit
Authored by GQ Pan via The Epoch Times,
Two Minnesota legislators who believe their state's COVID-19 death count is inaccurate are calling for a nationwide audit to find out how many people died from something other than the CCP (Chinese Communist Party) virus but were added to the pandemic death totals.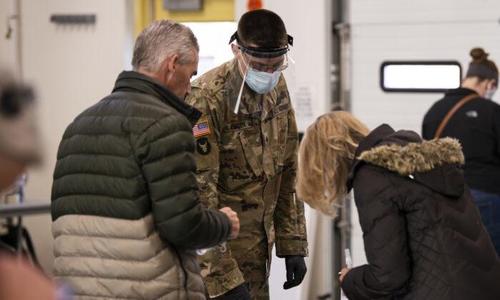 Republican State Rep. Mary Franson said she has enlisted a team to examine data provided by Minnesota's health department. Her team allegedly found that COVID-19 was blamed for some deaths clearly not linked to the respiratory disease.
"We found clear-cut examples from the Minnesota Department of Health's own files—public records—of suicide, a drowning, an auto accident where the passenger was ejected from the vehicle, we found dementia … and strokes," Franson said during an interview with Fox News, adding that she was "so shocked at what I found that I just could not keep silent."

"The citizens of our country are being led in fear, and that fear is leading them to make irrational decisions based on the governors with their shutdowns," she added.

"So we need this audit. We need the truth."
Franson was joined by Republican State Sen. Scott Jensen, a practicing physician. Jensen has become the subject of two state probes earlier this year for arguing that the federal and state guidelines on reporting COVID-19 deaths could pressure local authorities to misclassify and inflate their numbers, and that doctors and hospitals are motivated to do so for more health care dollars.
Watch the latest video at
foxnews.com
"If you could hit a threshold of 161 admissions to your hospital with COVID-19 diagnosis between January and June, you received $77,000 of additional money for each one of those admissions" through the CARES Act, Jensen told Fox News.

"I don't think there's any questions that reverse incentives have been created."
In response to the allegations, the Minnesota Department of Health said the way it classifies COVID-19 deaths is consistent with the guidelines from the U.S. Centers for Disease Control and Prevention.
"We're absolutely following the national guidance on how we are doing our death reporting from COVID-19," Infectious Disease Director Kris Ehresmann told Fox News. "If someone had tested positive for COVID and then subsequently died, we would review the death certificate and motor vehicle accident would be the cause of death and so it would not be considered a COVID death."
According to the state health officials, more than 413,000 Minnesotans have tested positive for the CCP virus since March and 5,262 people have died. The Health Department reported on Wednesday that 38,284 people across the state have received the Pfizer and Moderna vaccines.
Tyler Durden
Fri, 01/01/2021 - 19:55
via
IFTTT
InoreaderURL:
SECONDARY LINK