ORIGINAL LINK
Amazon Bars Unvaccinated Workers From Receiving Paid COVID Medical Leave
Amazon has decreed that any of its warehouse workers who refuse to accept the vaccine will also forfeit the right to paid time off should they ever be infected with the virus - even though being vaccinated has little impact on the transmission of the virus, as the omicron wave clearly demonstrated to millions of American workers.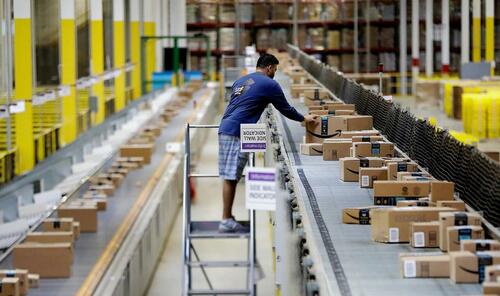 The e-commerce giant has decided to allow workers in its "fulfillment centers" to finally go mask-less inside its giant warehouses, which by all accounts are stuffy, hostile work environments - but only as long as they are vaccinated. The company is changing its policy in response to the governors of at least 12 states lifting their own respective masking requirements.
Amazon's policy change was first reported by WSJ:
"There has been a sharp decline in Covid-19 cases across the country over the past weeks. Along with increasing vaccination rates across the country, this is a positive sign we can return to the path to normal operations," Amazon's memo says.
Amazon employs about a million workers in the US, most at its hundreds of warehouses throughout the country. Some US companies have required all workers and guests at their facilities to get a COVID jab, including tech giants such as Microsoft and Facebook parent Meta Platforms. Amazon hasn't mandated that its workers get vaccinated, though it has offered incentives for them to do so, such as bonuses.
Even WSJ acknowledged that the company's new policies surrounding vaccination and paid medical "has moved closer to an outright vaccine mandate" as the company navigates "disruptions" to its delivery operations.
Amazon has so far required employees to wear masks, practice social distancing, and undergo temperature checks as part of its effort to stop the spread of COVID. But even as omicron spread widely across the country last month, Amazon shortened its paid time off policies for both vaccinated and unvaccinated employees to just one week. Prior to the change, employees were given 10 days of paid time off - and before that, they were given two weeks.
The changes coincided with a labor crunch last year that fortunately for Amazon didn't intensify until after its peak holiday season had ended.
Tyler Durden
Fri, 02/11/2022 - 15:04
via
IFTTT
InoreaderURL:
SECONDARY LINK