ORIGINAL LINK
5 million viewers watched Stew Peters' new Died Suddenly film within the first 24 hours following its release, and the momentum shows no sign of stopping, with viewership tallies continuing to climb and internet users sharing the groundbreaking new film faster than Big Tech censors can take it down.
Died Suddenly, the new film from Stew Peters and his mega-viral Stew Peters Network, generated massive traffic in its first 24 hours online, raking in more than 3.1 million views on Rumble alone between its release on Monday evening, and the same time on Tuesday.
The film went on to rake in more than a million more Rumble views overnight on Tuesday and into Wednesday morning.
Still, the views are climbing.
At the current count, more than 4.6 million viewers have watched the Stew Peters Network's Died Suddenly film on Rumble alone.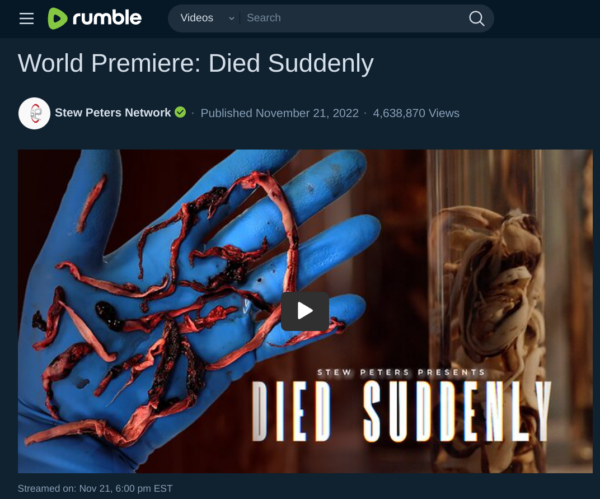 Stew Peters' new Died Suddenly film has already surpassed 4.6 million views on Rumble alone.
Watch The Full "Died Suddenly" Film HERE
Died Suddenly continues raking in massive amounts of views on Twitter as well.
Despite the best efforts of the Big Tech corporation to keep a lid on things, seemingly barring the film from its list of trending topics, Died Suddenly has received a whopping 1.2 million views on the Twitter platform.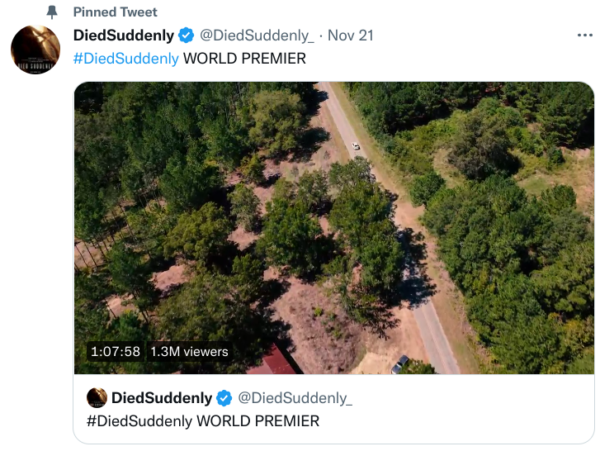 Died Suddenly
has received 1.2 million views on Big Tech platform Twitter, despite censorship efforts.
In addition to keeping Died Suddenly off of the trending charts, Twitter appears to have de-listed the @DiedSuddenly account altogether.
When the account is searched for by name, multiple other accounts appear, but not @DiedSuddenly, the account from which Twitter users can stream the full Stew Peters Network documentary film.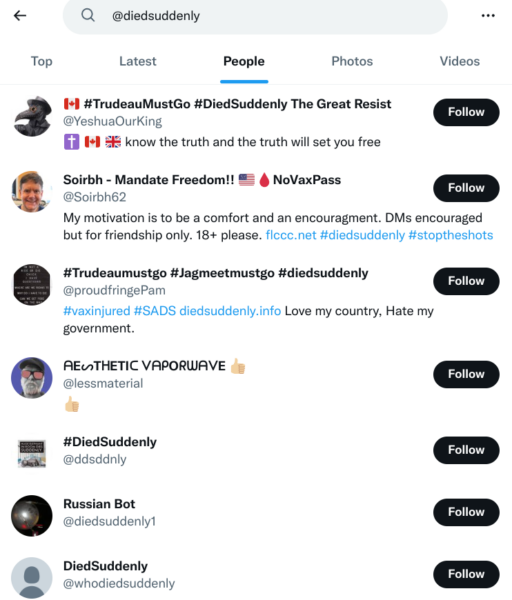 Twitter appears to have de-listed
Died Suddenly
from search results.
Watch The Full "Died Suddenly" Film HERE
Twitter isn't the only Big Tech corporation trying to halt the viewing of Died Suddenly, as the new film threatens to blow the lid off of the narrative so carefully procured by corrupt global power brokers.
On Facebook, users are being censored before they can even post links to the Died Suddenly film, with the social media platform telling them that their post has been "declined," as if they swiped a bad credit card.
Google has joined in on the campaign to stifle the film as well.
Long notorious for manipulating search results in favor of left-wing interests, Google has visibly tried to push negative corporate media stories about the film to the top of its search engine results.
The censorship effort has apparently been in vain though, as millions of viewers continue watching Died Suddenly and spreading links to the film like wildfire online.
Watch The Full "Died Suddenly" Film HERE
via
IFTTT
InoreaderURL:
SECONDARY LINK