ORIGINAL LINK
Is China's Economy Finally Starting To Recover? Here Is What The Real Data Shows
Over the weekend, China-watchers - or at least the ones who don't really watch China all that closely and instead rely on others' "hot takes" - were shocked to learn that in February both the Chinese manufacturing and non-manufacturing PMIs had crashed far below consensus expectations, tumbling to record low levels, surpassing even the economic contraction observed at the peak of the global financial crisis.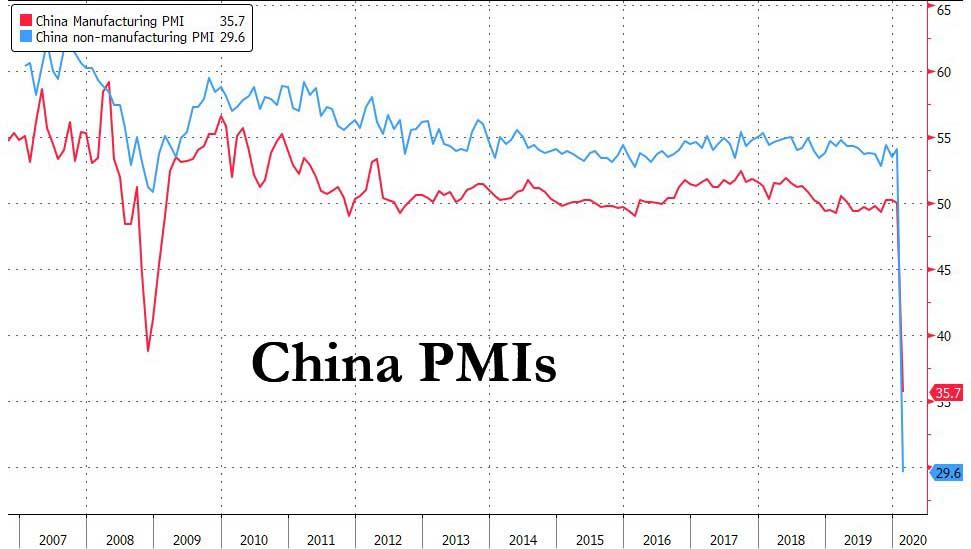 Meanwhile, anyone who was following out periodic updates of China's "alternative", high-frequency indicators demonstrating the real state of the economy was hardly surprised, because as we showed over the past few weeks, after China's catastrophic post-Lunar New Year collapse the economy has yet to stage a material rebound as profiled previously:
And yet, judging by the market's torrid surge on Monday, it appears that - as so often happens - traders took China's latest numbers in stride, and specifically as an indication of Beijing "kitchen sinking" the collapse in February, with a V-shaped recovery sure to follow.
Or maybe not, because while not only has China's economy not picked up even modestly, but it is only a matter of time before Beijing, which has forced people to go to work against their will, succumbs to a second wave of coronavirus infections, one which will result in an even worse economic slump than the current one, which incidentally has yet to show any actual recovery!
So what do the latest high-frequency economic indicators show? It may come as a surprise to some that not only has China's economy barely posted any improvement since our last update on this topic a week ago, but it has in fact lost ground in some metrics. Courtesy of Goldman, here is the latest "alternative" data:
First, daily coal consumption has barely rebounded from the recent lows, and is in fact where it was when the Lunar Near Year started, and tracking almost 30% Y/Y: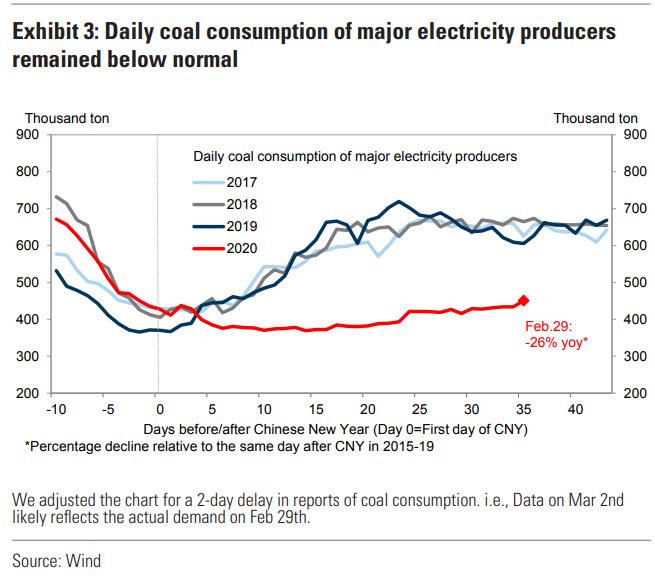 In line with the reduced daily coal consumption, railway-loaded coal volumes are also tracking substantially below the average level of the past three years, and what's worse, the 2020 series appears to have slowed down in recent days.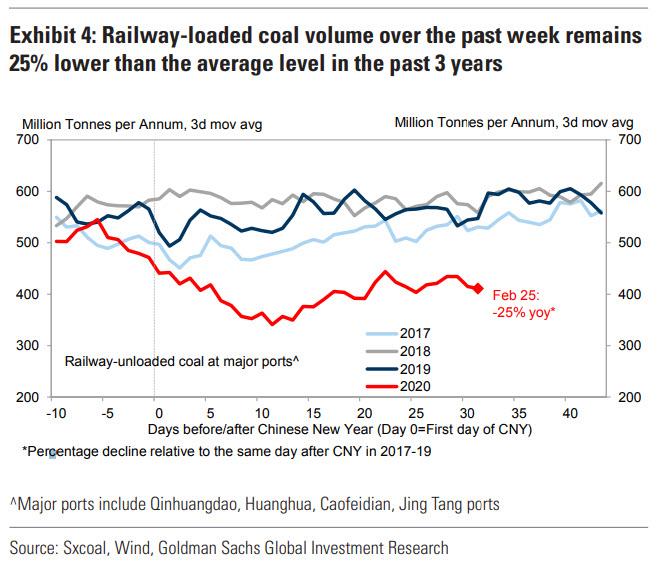 An even more ominous indicator is China's traffic congection index - a proxy of overall trade and commerce - which has barely budged since its new year lows and remains far below the same period in previous years.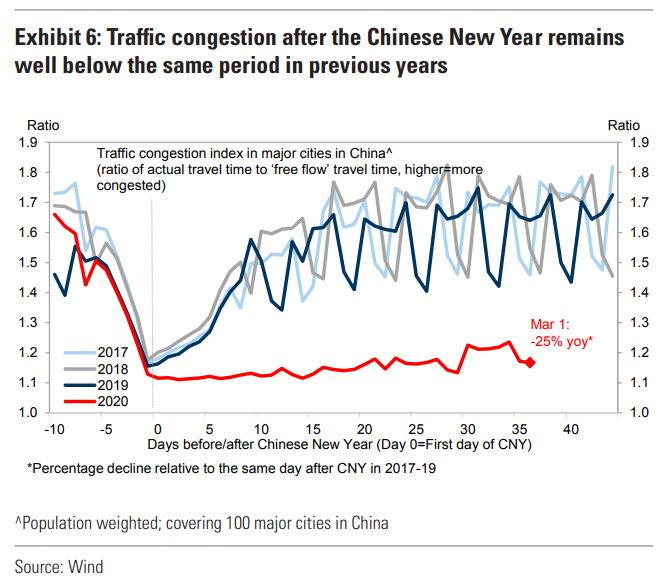 With commerce frozen and amid fears that the government is lying about the true extent of the coronavirus spread, it will hardly come as a surprise that passenger traffic has failed to stage even a modest rebound from its new year lows, and is about a quarter of where it was one year.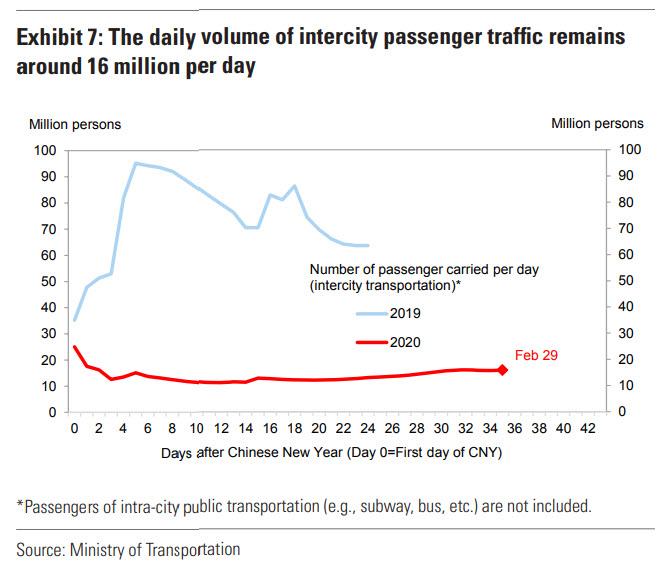 One of Wall Street's favorite real-time indicators, traffic congestion in major Chinese cities, has seen a modest rebound in recent days, however even it remains just barely above its level at the start of the lunar new year, and is below half where it has been in recent years.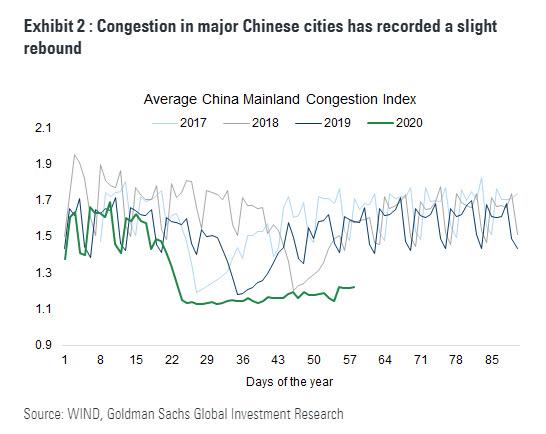 It's not just passenger traffic that is moribund: the load factor on domestic flights remains a fraction of where it has been in recent years.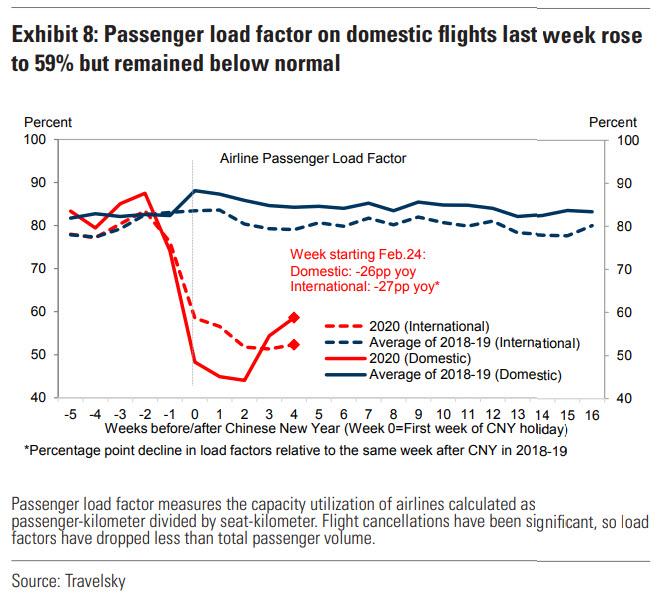 Even the one area where there was been a modest rebound in recent days, daily property sale, remains in dire territory, or about 68% down compare to last year.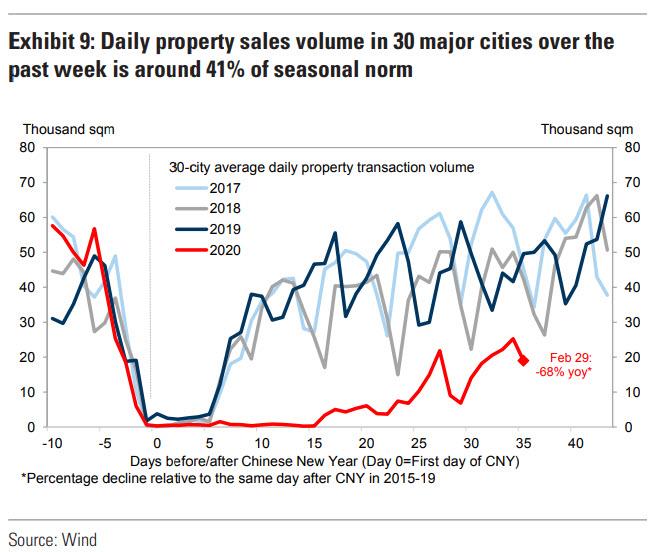 Looking at end markets for commodities used in construction, the operating rate of rebar slumped further on both weak demand and high inventories. Likewise, the operating rate of HRC and galvanized steel, mainly used in the manufacturing sector, is now at just 50% of capacity and shows no signs of recovery.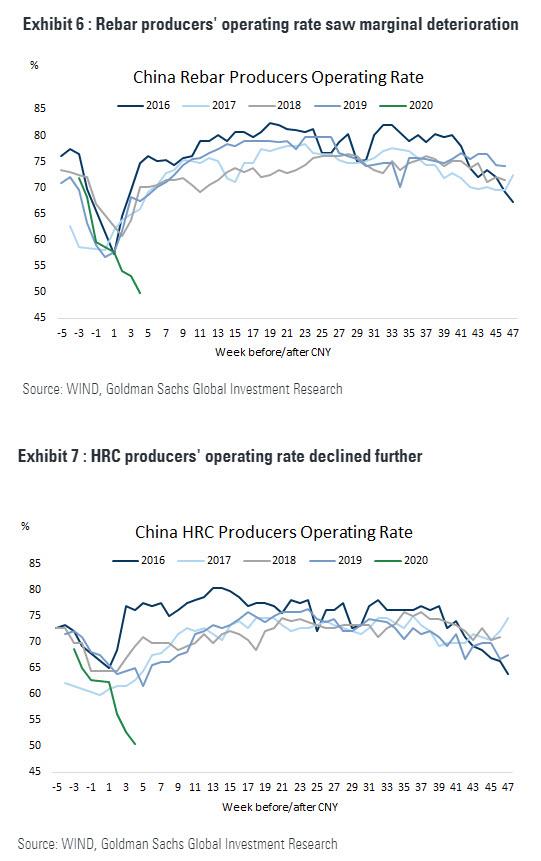 And, as Goldman points out, while the bank has found increased orders from cable and wires fabricators while, operating rate of copper rod producers remained as low as 50% for big companies and 30% for medium-sized producers. What's more, some small producers have not restarted yet at all, according to a Goldman survey with onshore contacts.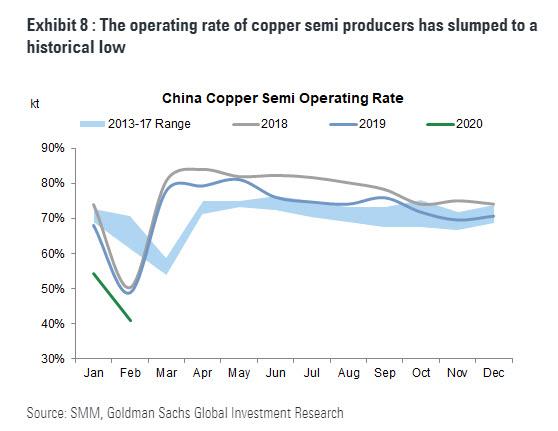 There is a silver lining to China's ongoing economic paralysis: anyone who ventures into one of the country's thousands of cinemas will have the building all to themselves.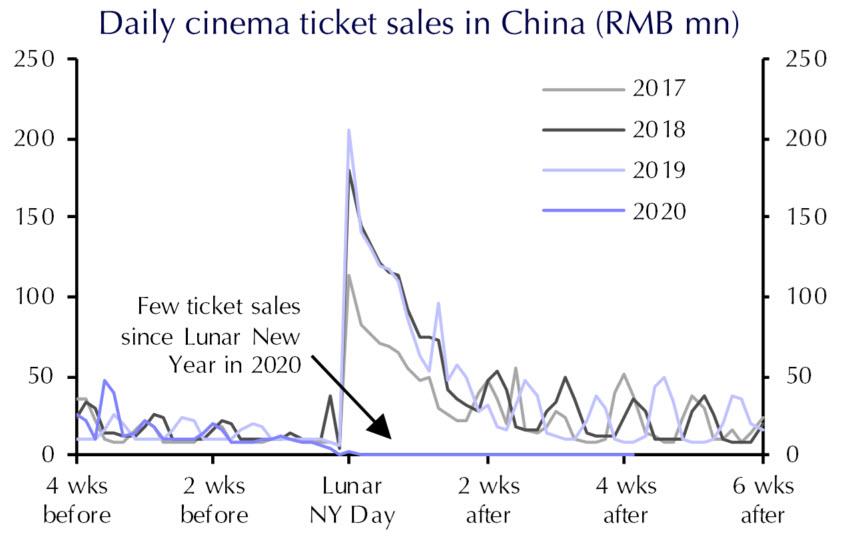 The failure of China's economy to reboot comes even as authorities have ordered owners of closed factories - whose employees are scared to return to work - to boost electricity usage to pretend that the economy is back to normal, and to fool those people who look at the charts above, into getting the impression that China's economy is humming again. We described this bizarre example of central planning on Saturday, and here is Rabobank's Michael Every commenting on this very phenomenon on Monday morning:
Saturday's China PMI data were frankly shocking. Manufacturing was at 35.7 and services at 28.9: these are not recessionary levels, but outright depressionary. The private Caixin PMI was also awful at 40.3, again saying a deep downturn is biting. Of course, the real issue is if we get a V-shaped recovery in output - or in virus infections. Optimists, and Chinese stocks this morning, are cheering the former – and Chinese stocks are always freely traded and never, ever manipulated by the authorities, as well all know. Realists, and NASA satellite imagery of no pollution over China, lean towards the latter: as does one anecdotal, unsubstantiated report trending over the weekend that China has been ordering factories to leave the lights on to make them look busier from space and to boost electricity output in case pesky foreigners start trying to use that as a GDP proxy.
Finally, for all those expecting that Beijing will unleash another massive stimulus to kick-start the economy which remains paralyzed at a time when most analysts said activity would be back to normal by the first week of March, we give the last word to Nomura's China economist Ting Lu, who not only correctly predicted the plunge in PMIs, but also said that "the likelihood of another round of massive stimulus appears low as policy space remains limited.""
"We believe markets might underestimate the scale of the current growth slump. Due to a slower-than-expected rate of business resumption, we have cut our year-on-year Q1 real GDP growth forecast to 3.0% and expect Beijing to ramp up policy easing measures in coming months. That said, the likelihood of another round of massive stimulus appears low as policy space remains limited."
In short, for China - which was the world's growth dynamo during the global financial crisis and helped the world rebound from the 2009 global depression while raking up tens of trillions in debt - the end of the economic road may finally be here.
Tyler Durden
Mon, 03/02/2020 - 20:40
via
IFTTT
InoreaderURL:
SECONDARY LINK