ORIGINAL LINK
Animals Dying Across Ohio State Parks After East Palestine Train Derailment
After a catastrophic train derailment in East Palestine, Ohio, early last month, President Biden, Transportation Secretary Pete Buttigieg, corporate media outlets, Ohio Governor Mike DeWine, Environmental Protection Agency, and some local officials have ensured air monitoring and water sample tests show everything is under control.
But is it? Well, not according to the local newspaper Ohio Star. Reporter Hannah Poling said a confidential source told her that a wildlife biologist and consultant for the federal forestry received hundreds of reports over the last several days from forestry workers discovering "hundreds of dead animals in Ohio's parks."
Several labs across the country have received specimens of whole minks, deer, elk, worms and livers of such animals, and they are finding toxicities that are off the charts, the source said.

"These highly toxic levels are the exact chemicals that were released from East Palestine. Wayne National Forest and Shawnee State Forest in Ohio, are downriver from East Palestine and are two parks where samples are from," the source continued.
Meanwhile, the BBC reported:
Nearly 45,000 animals have died as a result of a toxic train crash this month in an Ohio town, environmental officials have said.

The figure from the Ohio Department of Natural Resources updates the initial estimate of 3,500 animals dead after the 3 February derailment.
The source also told the Ohio Star that Governor DeWine attempted to block scientists from entering state parks:
The governor and the railroad were blocking scientists from getting soil samples in East Palestine, but they were able to still grab some for testing. Likewise, the soils are highly contaminated," the source said.

The source claims that the Ohio governor only uses his own hand-picked scientists to "give him the results he wants."

"It is heartbreaking to me that politicians like DeWine make an issue like this political. It should not be. He should be doing all he can to protect people, animals and the environment and not just cover his own behind," the source added.
There have been countless reports of health concerns by the residents of East Palestine and surrounding communities following the derailment of ten railcars carrying hazardous materials, including vinyl chloride, that first responders eventually burned off.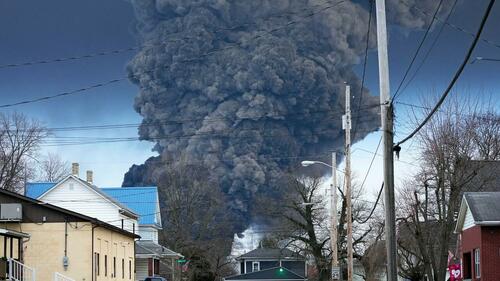 After the burn, "some residents say they have been diagnosed with bronchitis, lung issues, and rashes that doctors and nurses suspect are linked to the chemical exposure," said Ohio Star.
According to local TV station WKBN, residents have sent a list of demands for Norfolk Southern and the federal government, outlining the much-needed help their community deserves after a botched response.
Below is the list of demands:
Relocation for anyone who wants it. Folks don't feel safe and aren't getting their questions answered. Anyone who wants to be relocated to hotels or safe housing should have the opportunity to do so, paid for by Norfolk Southern.
Independent environmental testing. The EPA must immediately begin and continue to test soil, water, and air, including for dioxins throughout the region, and commit to regular public meetings to explain findings. Norfolk Southern must pay for an independent scientist, hired by residents, to represent the community and participate in all technical meetings regarding testing, cleanup, and safety plans.
Ongoing medical testing and monitoring: We still don't know what the short and long-term health impacts of this disaster will be. Federal Health & Human Services must provide ongoing health monitoring to evaluate those in the impacted region, guarantee health coverage, and Norfolk Southern must cover the cost.
Dispose of the toxic waste safely: The EPA cannot take the solid waste from the derailment and dispose of it in the Heritage Thermal toxic incinerator, in nearby East Liverpool, that has already been polluting our communities for years. This will only further spread the contaminants. Norfolk Southern must stop destroying evidence – we need a safety plan before resuming cleanup from the derailment site.
Norfolk Southern pays 100% of the costs. Taxpayers shouldn't foot this bill. Norfolk Southern made this mess, they should clean it up. The company must commit to paying 100% of the costs for testing, relocation, cleanup, medical monitoring and costs, and an independent science advisor.
The Biden administration's lack of leadership and physical presence after the train derailment was a crucial mistake. What happened is that Biden's opponents, such as former President Trump, seized on this opportunity for political points ahead of the 2024 presidential election cycle. Trump met with local officials and residents last week. Some have said this is "Biden's Katrina."
Tyler Durden
Wed, 03/01/2023 - 19:20
via
IFTTT
InoreaderURL:
SECONDARY LINK