ORIGINAL LINK
Goldman To Punish GOP Leaders Who Challenged Election; JPMorgan And Citi Suspend All Political Donations
Wall Street is taking a big step back from politics in the wake of last week's riots in the Capitol.
According to Bloomberg, Goldman Sachs is currently "formulating its measures that will probably curtail future political giving to the elected leaders who fought to overturn the 2020 result," while JPMorgan - the largest US bank by assets, will suspend contributions to both Republicans and Democrats for a period of six months. Citigroup says it will temporarily stop all political contributions in the current quarter.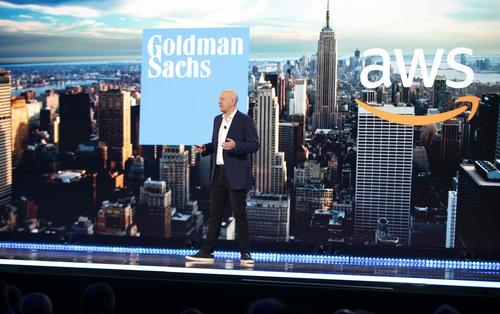 Goldman Sachs CEO David Solomon, 2019
"We want you to be assured that we will not support candidates who do not respect the rule of law," said Citi's head of global government affairs, Candi Wolff, in a memo to employees.
Morgan Stanley is also pausing contributions to any member of Congress who didn't vote to certify Biden's win.
The action from the banks followed an earlier announcement from Marriott International Inc., which said it will suspend donations to Republican senators who voted against certifying President-elect Joe Biden, after considering the "destructive events" on Wednesday.

The hotel giant was among the first corporate donors to announce the severing of financial ties with the lawmakers following the Capitol Hill riot by supporters of President Donald Trump. While much of corporate America swiftly condemned the violence, few companies have publicly vowed to cut off financial support to the elected officials that backed Trump's baseless claims of election fraud. -Bloomberg
"We have taken the destructive events at the Capitol to undermine a legitimate and fair election into consideration and will be pausing political giving from our Political Action Committee to those who voted against certification of the election," said a Marriott spokesperson. Of note, Marriott is close to Utah Senator Mitt Romney - a former board member and frequent critic of President Trump.
According to JPMorgan head of corporate responsibility, Peter Scher, the focus should be on delivering help to those needed, saying in a statement "There will be plenty of time for campaigning later."
Joining the 'contributions cancel campaign' is Blue Cross Blue Shield Association, who told Popular Information that they are suspending all donations to lawmakers who challenged the results of the Electoral College.
Other organizations who stopped short of suspending donations, but will assess future contributions, include AT&T, Ford Motor Co., CVS Health Corp, Wells Fargo and Exxon Mobil Corp.
As a reminder, none of the above entities took issue with Democrats when they challenged the Electoral College vote count in three elections over 20 years.
Tyler Durden
Mon, 01/11/2021 - 10:20
via
IFTTT
InoreaderURL:
SECONDARY LINK