ORIGINAL LINK
Germany Leads Europe Into New Wave Of Lockdowns As COVID Numbers Surge
Germany is leading Europe toward extending economically devastating lockdowns as Western Europe scrambles to quell a second more deadly wave of COVID-19, potentially exacerbated by "mutant" strains like B.1.1.7, first isolated as a driver of infections in the UK. As Germany prepares to extend a nationwide lockdown until the end of January, other governments in Europe are considering taking similar steps to prolong or strengthen restrictions on movement and businesses.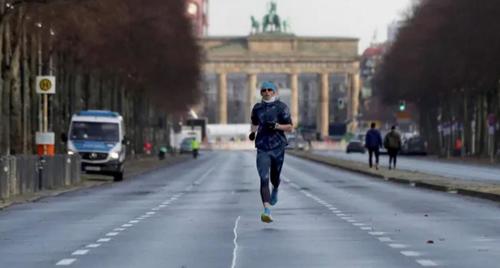 With these mutant strains available as a convenient boogeyman to justify more draconian measures as winter in the northern hemisphere drags on, leaders from across Europe are considering prolonging or strengthening restrictions to battle highly contagious mutations of coronavirus.
As Germany reported a series of record numbers for cases and deaths over the holiday period, cries for extending the lockdown intensified.
"Premature easing would set us back very far again," Markus Söder, the premier of Bavaria and leader of the CSU, one of Germany's governing parties, said on Sunday, after the heads of the country's 16 states met virtually over the weekend. "The numbers are simply still far too high," he added. "As annoying as it is, we have to stay consistent and not give up too soon again."
Europe's outbreak hasn't outpaced the US, but it remains a bastion for the pandemic in a world where much of the world continues to struggle with the virus.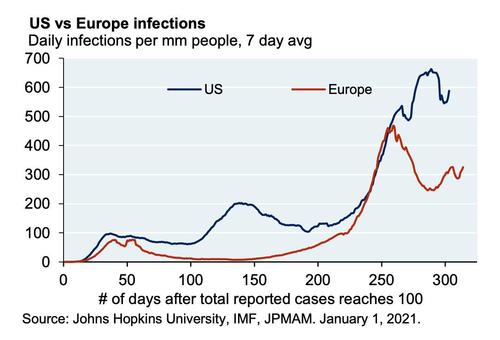 Germany's infection rate currently is at triple the level that policymakers deemed "safe" to start reopening last spring. German Chancellor Angela Merkel is expected to meet with the heads of Germany's states to discuss plans for the expansion, before making an announcement.
Even Boris Johnson has warmed to the possibility of delaying the return of students to British schools.
The French government moved on Saturday to move a nightly curfew in 15 states in the east and south-east of the country back from 2000 local time to to 1800 as incidence of coronavirus in those areas has been climbing more rapidly than elsewhere in France. France has also delayed the reopening of cinemas and museums, though schools are still expected to resume after the holiday.
Over the last week, Ireland, which embraced strict lockdowns early on, has seen new cases, hospitalizations and deaths accelerate. Deputy PM Leo Varadkar said further restrictions could not be ruled out even after Dublin already ordered new restrictions for the second time in eight days last week. "I think the situation is very alarming. We can see hospitalizations increasing at a rapid rate, numbers in ICU increasing too," Varadkar said in an interview with reporters. He added that the "explosion" of cases in the days since Christmas has outpaced the modeling.
Some are criticizing European nations (France, in particular) for taking too long to roll out vaccination campaigns. In France, lawmakers are selecting 35 people to form a "collective of citizens" in charge of deciding on vaccine strategy in the country. To the chagrin of public health officials, Europeans are refusing the vaccines in larger numbers than they anticipated.
But if we've learned anything, it's that frantic warnings about lockdowns and overflowing hospital wards is often enough to convince some people to change their minds.
Tyler Durden
Mon, 01/04/2021 - 02:45
via
IFTTT
InoreaderURL:
SECONDARY LINK