ORIGINAL LINK
Mexico Ready To Offer Assange Asylum, President Lopez Obrador Says
On the day that a UK judge ruled that WikiLeaks founder Julian Assange can't be extradited to the United States, saying his health would be in jeopardy under the harsher, severe conditions of US federal supermax prison, Mexico has come forward with an unexpected offer.
Mexican President Andrés Manuel López Obrador announced in the hours after the ruling was handed down at the Old Bailey in London that he is prepared to offer asylum to Assange.
"Assange is a journalist and deserves a chance, I am in favor of pardoning him," López Obrador announced at a news conference, Reuters reported. "We'll give him protection."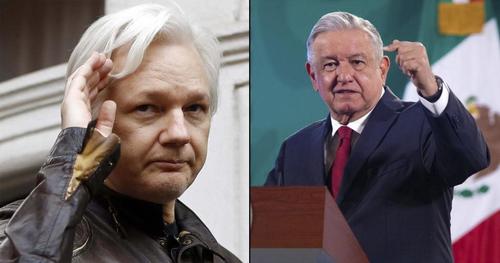 "I'm going to ask the foreign minister... to ask the government of the United Kingdom about the possibility of letting Mr. Assange be freed and for Mexico to offer political asylum," López Obrador added, while referring to the Monday ruling to prevent Assange being handed over to the US a "triumph of justice".
Many among Latin America's Leftist politicians have long been staunch supporters of Assange and WikiLeaks' mission, foremost among them Mexico's leader since 2018, who as Reuters points out—
...a year ago urged Britain to release Assange, calling his detention "torture" and saying WikiLeaks documents had showed the world's "authoritarian" workings.
In Monday's ruling Judge Vanessa Baraitser stated in her decision, "I find that the mental condition of Mr. Assange is such that it would be oppressive to extradite him to the United States of America," while also adding he remains at risk of committing suicide.
Julian Assange Partner Stella Moris: "Julian's freedom is tied to all of our freedoms -- Free Julian, Free the Press, Free us all" #AssangeCase @StellaMoris1 pic.twitter.com/gPXlpaBzWb

— WikiLeaks (@wikileaks) January 4, 2021
US prosecutors have already moved to appeal Baraitser's decision, with a DOJ spokesperson saying in the wake of the ruling, "While we are extremely disappointed in the court's ultimate decision, we are gratified that the United States prevailed on every point of law raised." the statement added: "In particular, the court rejected all of Mr. Assange's arguments regarding political motivation, political offense, fair trial, and freedom of speech. We will continue to seek Mr. Assange's extradition to the United States."
Indeed it remains that the judge essentially validated the US prosecution's reasons for seeking to have him extradited, while in the end rejecting extradition solely on humanitarian grounds.
Tyler Durden
Mon, 01/04/2021 - 14:16
via
IFTTT
InoreaderURL:
SECONDARY LINK