ORIGINAL LINK
Parler Faces Extinction As Amazon Employees Demand Company Stop Hosting
A coalition of Amazon corporate employees have demanded that the Seattle-based megacorp kick Parler off the Amazon Web Services (AWS) platform unless 'posts inciting violence' are removed, which would force the Trump-friendly Twitter competitor to find another host.
According to CNBC, an employee advocacy group - Amazon Employees for Climate Justice - said in a Saturday tweet that AWS should "deny Parler services until it removes posts inciting violence, including at the Presidential inauguration."
Enough is enough. Amazon hosts Parler on @awscloud.

As Amazon workers, we demand Amazon deny Parler services until it removes posts inciting violence, including at the Presidential inauguration.

We cannot be complicit in more bloodshed and violent attacks on our democracy.

— Amazon Employees For Climate Justice (@AMZNforClimate) January 9, 2021
More via CNBC:
Pressure has been mounting for Amazon to stop hosting Parler on AWS after other tech giants took action against the social media app in the wake of the deadly U.S. Capitol riot earlier this week. Google on Friday removed Parler from its app store for Android users, Google Play Store. BuzzFeed News reported on Friday that Apple has threatened to pull Parler from its App Store.

Parler, which launched in 2018, has emerged as a popular platform for President Trump's allies in the last year by billing itself as a free speech alternative to mainstream social media services like Twitter and Facebook. -CNBC
To justify censoring Parler, critics have pointed to posts calling for 'firing squads' - like one from attorney Lin Wood (who some say handed the Senate to the Democrats by openly calling for Georgians not to vote in the runoff election unless the GOP candidates backed Trump's election fraud claims).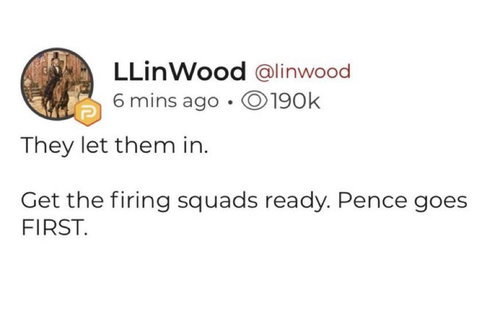 In 2019, Amazon pulled the plug on their AWS partnership with Twitter alternative GAB over user posts. CEO Andrew Torba essentially blamed the CIA - claiming that a "PSYOP campaign started back in early December" in which newly created accounts were "popping up out of nowhere and making threats of violence."
Torba's letter continues:
After this week, it's clear why this PSYOP was started: to take down alt-tech platforms and frame them for the January 6th protests that ended with the police killing an unarmed woman.

Almost instantly after police allowed protestors into the Capitol the New York Times started a baseless narrative that this protest was organized on alt-tech sites, and in particular on Gab, without offering any proof, screenshots, usernames, or evidence to back these baseless claims. I've recorded a video highlighting how this all played out. I hope you'll take some time to watch it to learn how the CIA Mockingbird Media complex operates. The way we fight back is with truth and by speaking truth to their power, which is quickly fading.
Meanwhile, Parler has jumped to the #1 app in Apple's app store.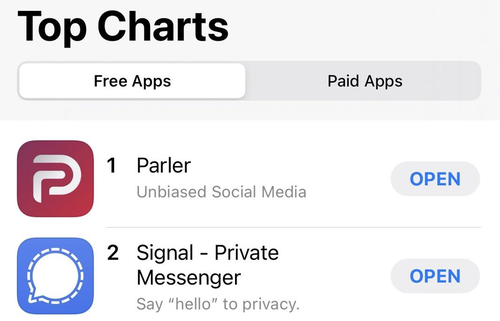 Parler saw approximately 210,000 installs globally on Friday 1/8, up 281% from approximately 55,000 on 1/7, according to data from the analytics service Sensor Tower. "In the U.S., the app saw approximately 182,000 first-time downloads on 1/8, up 355% from about 40,000 installs on 1/7. Since Wednesday, the app has seen approximately 268,000 installs from across U.S. app stores," a press rep from Sensor Tower wrote in an email. -TechCrunch
And as conservatives scramble to download the app before it's deplatformed at yet another social media giant, we now have to wonder if they'll even be able to find a new home among a collusive constellation of big-tech - at least one of which used to value the phrase 'think different.'
Tyler Durden
Sat, 01/09/2021 - 17:55
via
IFTTT
InoreaderURL:
SECONDARY LINK