ORIGINAL LINK
Scottish Police Enter Home, Arrest Family After Neighbor Snitched On Them For Violating COVID Rules
Authored by Paul Joseph Watson via Summit News,
Police in Scotland entered a home and arrested a family after a neighbor snitched on them because there were "too many people inside."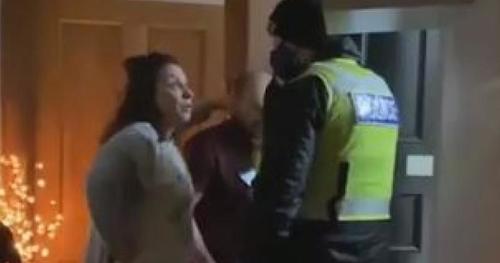 The incident happened on Wednesday night at 11:20pm in Aberdeen and a clip of the encounter has since gone viral on social media.
"My house. That is bullying. This is my house. Get out of my house. I did not ask you in here," says the woman as she is confronted by officers in her hallway.
"Just stop it mum," says the woman's daughter as the situation escalates.
This is what your taxes and capitulating to the government get you.

Scottish police use lockdown powers to storm into a home and violently arrest the family. The children screaming really fucked me up. pic.twitter.com/J6qfHLHKzv

— Speech God🏴󠁧󠁢󠁳󠁣󠁴󠁿🏳️‍🌈 (@CountDankulaTV) January 7, 2021
Particularly harrowing is that the children can be heard screaming as their parents are forcefully handcuffed.
Police Scotland later confirmed that the officers entered the home after a neighbor snitched.
"We received a complaint from a member of the public regarding a breach of coronavirus regulations at a property in Aberdeen, around 11.20pm on Wednesday, 6 January, 2021," said a spokesman.
"Police officers are legally allowed to enter Britons' homes if 'that person reasonably suspects that an offence under regulation 5(1) is taking place on the premises,' according to legislation," reports the Daily Mail, although whether this applies under coronavirus regulations is still a subject of debate.
Three people were later charged with "assaulting officers" and "threatening and abusive behavior."
As we have previously pointed out, the new national lockdown is virtually the same as the previous lockdown, with its primary purpose being to allow the police more draconian leeway in viciously enforcing the arbitrary rules.
As we highlighted earlier, two women were interrogated and fined by police for going on a walk in a remote area despite this not being a violation of the law.
* * *
New limited edition merch now available! Click here. In the age of mass Silicon Valley censorship It is crucial that we stay in touch. I need you to sign up for my free newsletter here. Support my sponsor – Turbo Force – a supercharged boost of clean energy without the comedown. Also, I urgently need your financial support here.
Tyler Durden
Sat, 01/09/2021 - 08:10
via
IFTTT
InoreaderURL:
SECONDARY LINK